Thread Options
Mark as New

Mark as Read

Bookmark

Subscribe

Email to a Friend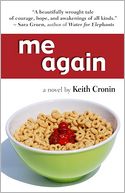 Keith Cronin knew he wanted to help shape the cover for his latest novel, Me Again, so he got involved from the start of the design process. Here's Keith to tell the tale:
"Although Me Again is about two young stroke victims, and is set mostly in a hospital, there's a lot of humor in the book - I took sort of a Nick Hornby 'serious things happening to witty people' approach. So the challenge was to capture its quirky tone, and avoid looking like a medical thriller or tearjerker.
"Five Star uses a questionnaire to solicit author input on cover art, but I did more than fill it out; I sent them three mockups. I used to write advertising for Office Depot, and often created rough mockups for ad agencies, so I took a similar approach with Five Star.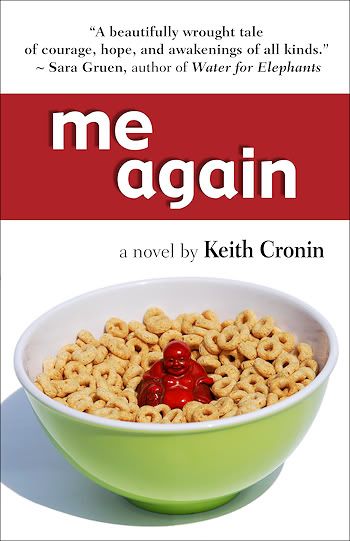 "A small ceramic Buddha figurine plays a recurring symbolic role in Me Again. I own a similar figurine, and started brainstorming how to use it without looking like I'd written a book about Eastern philosophy. There's a pivotal chapter involving some Cheerios, and my twisted mind made a connection: let's put that happy little guy in the middle of a bowl of Cheerios.
"Not that I have OCD or anything, but I then realized I needed the perfect cereal bowl. So it was off to my favorite china shop (okay, the nearest Target), where I found a bowl in that awful/wonderful avocado shade that dominated the kitchen appliances of the 1970s.
"My life partner, indie artist and professional photographer Luna Jade, shot the photo on our back patio, and I mocked it up on a plain white cover with a burgundy title band. I liked it, but knew this was a departure from the moody, ethereal covers on many Five Star books, so my other two mockups were more conventional. I crossed my fingers, and sent them in.
"To my delight, the Buddha shot was a favorite with everybody at Five Star, and their art department used my concept almost verbatim, improving the fonts and making the cereal bowl more prominent. The jacket designer decided to insert the Buddha (sans cereal bowl) on the back cover, which prompted another patio photo shoot. Here's Luna at work with the smiling crimson subject, who never once complained about the South Florida heat.
"The entire experience drove home how much influence authors can have if they bring tangible suggestions to the table. After hearing horror stories of authors having little or no say in their cover art, I'm glad I took a proactive approach!"
Thanks, Keith! I think the playful nature of this cover is perfectly intriguing, and I love how involved you got.
What do you guys think?

Want to keep up with my Cover Stories, and all of Barnes & Noble's exclusive reviews, authors interviews, videos, promotions, and more? Please follow us on Twitter: @BNBuzz!
Permalink