Thread Options
Mark as New

Mark as Read

Bookmark

Subscribe

Email to a Friend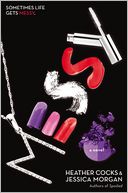 The duo behind amazing website Go Fug Yourself, Jessica Morgan and Heather Cocks, have written the second novel in their Young Adult series (they shared the Cover Story behind Spoiled last year). Now, Jessica and Heather are here to talk about the brand new cover for Messy:

HEATHER: I never have good ideas for this stuff. Ever. I'm so NOT visual. Anyone who read our Web site in the early days knows that -- I made our banner on Photoshop and it was so ugly.

JESSICA: I was thinking it would be similar to the Spoiled cover, but beyond that, I didn't really think about it -- other than being excited to see it once it was done!

HEATHER: [Our publisher] knew how much we were in love with the cover for Spoiled, so we didn't even have to say much. I believe at one we discussed in a fanciful way the idea of spelling it out with clothes, or jewelry, just to use a different medium than makeup. But then they set Liz to work on it and she is SO good, she does not need direction from us, that's for sure.
JESSICA: We all spent so much time cooing over the Spoiled cover [right] that I think they were well aware that we'd like to keep it in that family (which of course would make sense for branding purposes, anyway).

HEATHER: Initially they had the words "a novel" on the cover inside a pair of shoes, and we were discussing the shoes a lot. What should they look like, etc. They have always been extremely receptive to our feedback -- the issue being, of course, that we never actually HAVE any negative feedback, because Liz Casal is so good at her job, and Elizabeth Bewley and Cindy Eagan (our editors) know exactly what to do.

JESSICA: We had more discussion about the original version than the final version -- the shoes, as Heather noted -- but I don't think we had any notes at all on the final one. We saw it in person because we happened to be in the office, and Elizabeth was like, "We made your names bigger!" Which we never would have asked for, but what writer doesn't like to see her name bigger? Very few, I'd wager.
HEATHER: Messy had two covers. Our ARC is the initial cover idea (left), which is a hot pink background, and then MESSY spelled out in black and white clothes (much like you'd find in Max's wardrobe). They were having trouble making the E in MESSY legible enough, but it was still cool and striking. I remember not being sure if it was as awesome as Spoiled's was, but we're talking degrees of good here, not bad. And then one day we got an email from them that said, "Okay, here is your new cover," and it was the totally redesigned one you see on the hardback -- glossy black, back to makeup, except the M in MESSY is a diamond M pendant now. And they are right; it's much more impressive and eye-catching this way.

JESSICA: It was interesting to think that they'd had a whole series of discussions about it -- I wish I could have been a fly on the wall in the art department. I think changing it was definitely the correct call. The original cover was definitely good, but the final one is absolutely more fabulous.

HEATHER: One thing I liked about the first version, which I think is why she did it, is that the black and white clothing reflects Max's wardrobe -- and because Max herself is Messy, the cover art sort of reflected how Max might have strewn them around her bedroom floor. It felt very savvy on a couple levels. But in the end they were totally correct that it was a touch harder to read, and that the title itself got swallowed by the pinkness of the background. But the new version, aside from being just flat-out gorgeous, does tie the novel back to Spoiled a bit better. They definitely look like they're family, you know? And I like how the lone different design element is the M, which is a nod to Max being different and special, and also the idea that Max is SO the opposite of a diamond-necklace girl but she's getting drawn into a world full of them.

JESSICA: I LOVE [the final cover]. The hot pink underneath really sells it. And the two go so beautifully together.
HEATHER: I actually might even like [this cover] more than Spoiled's cover, which I did not think was possible. It's a bit more dramatic. When the hardback came, with the hot pink cloth cover underneath the glossy jacket, I actually clapped my hands with glee.
Thanks, you guys! I was actually browsing the Young Adult section last week and the Messy cover really stood out for me -- the text treatment is fun, and it also stands out from the many faces and photographic images on YA shelves.
What do you guys think?
Melissa Walker is the author of six Young Adult novels, including the newly released Unbreak My Heart (pictured). Her author blog, where Cover Stories originated, is melissacwalker.com. Follow her on Twitter @melissacwalker.
Keep up with all of my blogs – as well as all of Barnes & Noble's exclusive reviews, authors interviews, videos, promotions, and more – by following @BNBuzz on Twitter!
Permalink