Thread Options
Mark as New

Mark as Read

Bookmark

Subscribe

Email to a Friend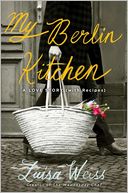 Luisa Weiss runs the blog
The Wednesday Chef
, and her new book full of love lost and found, plus recipes, is called My Berlin Kitchen. The cover is beautiful, and it has a secret, which Luisa is here to share:
"I had no idea what my cover should look like! I simply trusted that my Viking, my publisher, who has a crackerjack design department, would do something great. I'd worked in book publishing for a long time and knew that, as an author, I was lucky to even have any input at all on the cover design. I had no idea, when I was proposing or writing the book, that I'd be as involved with the cover as I was.
"The art director sent me a stock photo of a woman in motion, dragging a suitcase behind her. It was very anonymous, but the feel of movement appealed to her. She asked me if I could, with the help of my photographer friend Jördis Anderson, come up with an image of me that had the same spirit.
"Jördis and I bundled up one Saturday morning in February - it was freezing cold in Berlin and I was 5 months pregnant - and set out early to see what we could come up with. We shot some photos of me at my local green market, which we both thought were rather awful. Then we ended up walking up and down a few beautiful streets in my neighborhood, me carrying a shopping bag full of the things I'd bought at the market while Jördis snapped away with her film and digital cameras. When she had a handful of images we liked, we fled indoors with frozen hands and feet! We had no idea if we'd gotten anything that the designer would like.
"When I saw the cover, I was totally bowled over - the designer, Roseanne Serra, had nailed it, with one try! It surpassed my wildest expectations. She'd chosen one of my favorite images, turned it sepia from color and added hand-lettering for the title and my name, a touch I would have never thought of. The final jacket image that you see on the book is almost exactly what she first sent me, with only a few tweaks. Amazing.
"I adore my cover. I think again and again how lucky I am, as a first-time author, to have a cover that I think so perfectly conveys not only the spirit of the book, but also the spirit of Berlin, my beloved city, and even of me. Many people think that the image is a stock photo, but a lot of people have wondered if it's me - I like that there's some mystery to it. A tiny detail that I love is that my son, Hugo, is hidden in the cover, in my belly at the time of the shoot. I can't wait to tell him about it one day. And I love that so many Berliners who have seen the jacket have told me how much it feels like home, in other words, how well it communicates the gritty beauty of our incredible city."
Thanks, Luisa! I love knowing that not only you, but also your sweet Hugo, grace the cover here--what a personal image that fits perfectly.
What do you guys think of this cover?
Melissa Walker is the author of six Young Adult novels, the latest of which is Unbreak My Heart (pictured). Her author blog, where Cover Stories originated, is melissacwalker.com. Follow her on Twitter @melissacwalker.
Keep up with all of my blogs – as well as all of Barnes & Noble's exclusive reviews, authors interviews, videos, promotions, and more – by following @BNBuzz on Twitter!
Permalink