Thread Options
Mark as New

Mark as Read

Bookmark

Subscribe

Email to a Friend

Sarah Schmelling's first book, Ophelia Joined the Group Maidens Who Don't Float, started with a McSweeney's piece called "Hamlet (Facebook News Feed Edition)."
So how to create a cover that conveys the funny inside? Sarah shares her Cover Story here:
"The book has an unusual concept. It started with a humor piece on McSweeney's where I imagined the story of Hamlet in Facebook news feed form, so the book brings classic literature into a kind of crazy, fictional social network. I didn't have a strong idea for the cover right away, but the publisher started working on it very early on, so it kind of evolved alongside the writing of the book.
"The publisher came up with the original concept, but they let me give a lot of input. They thought it would be fun to have some recognizable classic lit authors--Edgar Allan Poe, Jane Austen, Charles Dickens--on the cover, and they asked me for a list of who I thought should be on it. Then we decided to include characters from classic lit on the cover as well (Moby Dick, the actual whale, was originally a contender). I suggested the idea of also using 'lines' from the book--sort of like cartoon bubbles--to give a flavor of it. So a Facebook-like line from Edgar Allan Poe was: 'Edgar Allan Poe will not stop looking at you that way.' Hester Prynne 'received a piece of flair.'
"Since the book includes a great range of classic lit--from Shakespeare to Lolita--we wanted to use characters and authors from different genres and time periods. We brainstormed these and then the publisher gave me a list of authors and characters and asked me to suggest lines for them. I gave a bunch of options for each one and then they chose their favorites. They hired a designer for the cover and an artist to do the illustrations.
"The trickiest part was that I had really just started writing the book, so at the time, I didn't even know for sure that all of these authors and characters would be included, let alone what they would 'say.' For example, I didn't know if I would use Virginia Woolf in the book, but they really wanted her on the cover. That worked out fine, though, because I did end up including her. Later on, I was also able to give a lot of input on the text of the back cover and the images there.
"I liked the illustrations a lot, but I think the first time I saw the cover I worried that there might be too much going on. There are the characters and authors with their lines, and then they have water behind them to go with the 'maidens don't float' idea. They're also a little abstract--I remember wondering why Hester Prynne had so many 'A's on her dress--but then I understood it was more of a conceptual thing. It was also my first book, so it was a little overwhelming to take in at first.
"My editor did let me make comments and suggestions and my agent helped as well. They originally had the Mad Hatter on the front, but we thought that gave it a children's book feel, plus he didn't end up being a big part of the book, so we replaced him with Ernest Hemingway. (We definitely had some interesting email exchanges about all of this.) We also changed some of the lines to be funnier or more appropriate. The pig on the cover was meant to be Wilbur from Charlotte's Web, but we didn't have a good line for him (in the book he plays Scrabble with Napoleon the pig from Animal Farm, which doesn't exactly work out of context). But we thought it was okay to just leave the pig there without something to say because it fit the random humor of the book.
"The whole book was very design-heavy, so throughout the process there was a kind of a chain of communication--I had to tell everything to my editor and then she relayed it, and then I got messages back through her. We had so many different ideas floating around. But overall the cover didn't change in a big way.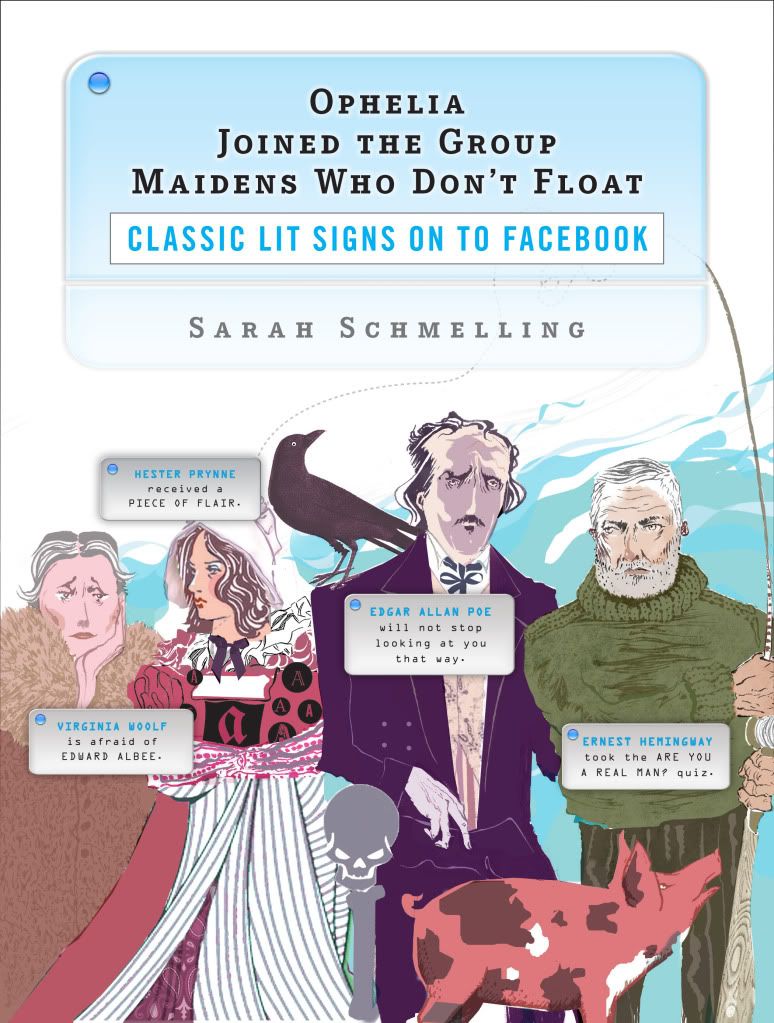 "I would think the artist looked to images of the authors (Hemingway, Poe, Woolf) for help, but he really did an amazing job of making them recognizable without obviously looking like famous photos. I love what he did with Shakespeare on the back cover, too.
"In the end, I like it. Somehow between Poe's raven and the pig and all of these historical figures, it has a kind of Monty Python feel to it that I love. I wonder sometimes if having so much happening on the cover has been off-putting to people at all, but I've also heard from people who said they picked it up just because of the cover. If I had to do it over I may have picked a few different authors or characters and their lines--especially those that became my favorites later on in the writing process (Oscar Wilde having a 'quip-off' with Mark Twain? James Joyce's experimental status updates?). But I think the cover does tell you this is a funny book that has something to do with classic lit and Facebook. And if you like random references to pigs, this is also the book for you."
Thanks, Sarah! A cover that makes readers laugh, instantly, is a rare find, and that's what this book did for me.
What do you guys think?
Melissa Walker is the author of four Young Adult novels, including the Violet trilogy and Lovestruck Summer. She is co-creator of the popular teen newsletter I Heart Daily and the awkward-stage blog Before You Were Hot, as well as the blogger for readergirlz.com. Her author blog, where Cover Stories originated, is melissacwalker.com.
Permalink