Thread Options
Mark as New

Mark as Read

Bookmark

Subscribe

Email to a Friend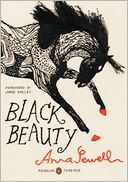 Re-covering a much-beloved book is a dangerous and exciting proposition, and Elda Rotor, Associate Publisher and Editorial Director of Penguin Classics is here to answer some questions about the covers of the newest designed classics series, Penguin Threads, which includes Black Beauty (left). For all of your favorite Penguin books in one place, check out the new Best of Penguin collection on BN.com.:
Melissa Walker: Is it intimidating to try to re-cover a classic novel?
Elda Rotor: It's more exciting than intimidating to re-cover a classic. New book packages draw in new readers, invite others to return to favorite classics, and give artists a venue to show their best work, contributing their modern interpretation of these timeless works through book design.
MW: What inspires the redesigns?
ER: For the new Penguin Threads series, our art director Paul Buckley and I were on the same wave length. He had bought a small beautiful piece of embroidered work and was thinking of how it could be a new design direction for our Penguin Classics Deluxe editions. Like many others, I had become an admirer of handmade goods on etsy and recognized the growing community who appreciated the aesthetic of handmade crafts. So celebrating this tradition of handcrafted work was an exciting new area to explore. While Penguin embraces all things digital and brings writers to readers in all formats available, we also understand and share the love for physical books, excellent book design, and the all around book package that elevates a reader's experience and also inspires the gift-giving of books.
MW: Were there lots of ideas on the cover "drawing board" for these classic titles (pictured below)?
ER: Paul Buckley commissioned the wonderfully talented Jillian Tamaki for our first three Penguin Threads: Black Beauty, Emma, and The Secret Garden. She had her own journey with each of the books, drawing from her own personal and artistic perspective on each of the titles. What we saw were illustrated sketches from Jillian first, of proposed front and verso covers and French flap artwork, and then offered input on what were the strongest elements and what we wanted to see revised. Jillian presented pretty stunning designs from the start.
MW: How did you know when you'd hit upon the winning concept(s)?
ER: Penguin colleagues serve as our first focus group, and if we get random "oohs" and "aahs" from our colleagues in our packaging meetings, or from people who stop by the office and see sketches and proofs in our inboxes or at our desks I know we've got something with strong potential. It's very satisfying to see people get excited about books.
MW: How were these covers created?
ER: The Penguin Threads are sketched out in a traditional illustrative manner on a canvas, then hand embroidered. The final artwork is photographed and then the covers are sculpt-embossed. The added surprise to the Penguin Threads, a sheer genius move by Paul Buckley, is that the reverse sides of the full covers reproduce the back of the hand stitched canvases. It makes you appreciate the work and technical skill involved in creating each of the covers. [See the full Emma cover below.]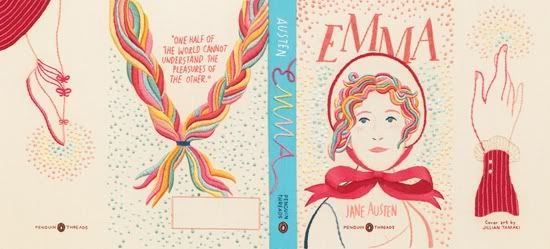 MW: What has been reader reaction to the new covers for these beloved books?
ER: Joy. That's as good as it can get. Bloggers and reviewers have used words like: "lush, gorgeous, mind blowingly intricate," "my heart fluttered with excitement" "Modern, sweet, beautiful. Inspired" and "breathtaking." Real visceral experiences. What's even better, the Penguin Threads inspire people to give these Penguin Classics as gifts.
Big thanks to Elda for the fascinating interview. I think these covers are incredible in their design and intricacy -- they're beautiful. What do you guys think?
Want to keep up with my Cover Stories, and all of Barnes & Noble's exclusive reviews, authors interviews, videos, promotions, and more? Please follow us on Twitter: @BNBuzz!
Melissa Walker is the author of five Young Adult novels, including the Violet trilogy, Lovestruck Summer and the just-published Small Town Sinners. She is co-creator of the popular teen newsletter I Heart Daily and the awkward-stage blog Before You Were Hot, as well as the blogger for readergirlz.com. Her author blog, where Cover Stories originated, is melissacwalker.com.
Permalink