Thread Options
Mark as New

Mark as Read

Bookmark

Subscribe

Email to a Friend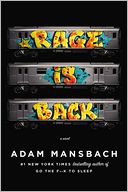 The Washington Post calls Adam Mansbach's Rage Is Back a "fresh, witty novel . . . Laced with zaniness and cultural bling." The Wall Street Journal says it's "Exuberant . . . [with] a wild-style collage form." So how to cover all that energy? Here's Adam with the story:

"My original idea was to do the book title as a graffiti piece - full color, stylized but readable - on the outside of a moving, elevated subway train, with a New York City background. Basically, to recreate one of Martha Cooper's iconic images from the book Subway Art. She captured the trains framed against their natural environment, which made the art really pop and also drove home how organic a part of the city it was. (Subway Art is a collaboration between Martha and Henry Chalfant, who comes from a fine arts background, not a journalistic one like Martha; he shot the trains like art objects, with the environments cut away. The way the two approaches play off each other is one of the things that makes the book great). I had one of her photos in particular in mind, a famous LIZZIE DUSTER train she caught snaking along an elevated track (below).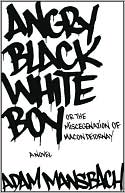 "My editor and I discussed the cover quite a bit, especially since art is such an important part of this book. We discussed getting art elements into the book – which we did, with the illuminated letters by KEO that begin every chapter, a graffiti take on a very old tradition of letter ornamentation – and I showed her some of the photos I wanted to emulate. Blake 'KEO' Lethem, who did the cover, is a good friend of mine, and he read the book early and had all kinds of ideas of his own. So he was in the mix very early. He also did the cover of one of my previous books,
Angry Black White Boy
(left).
"By the time I saw the cover, we'd nixed the photo-realistic approach as too tough to pull off, and gone in another direction. I was in the loop for all of it, so it wasn't some big surprise. Initially, I was very happy with KEO's letters, and less pleased with some of the other elements they had going on in early drafts - the background wasn't plain black, but filled with hand-drawn stars. And I was on the fence about the toy trains; I thought it would be cooler to put his letters on real trains. But as a first draft, I liked it a lot. And I knew I'd have input, in terms of tweaking it.
"I told them to nix the stars. They replaced them with subway symbols - floating Fs and As and 1s and 6s. I told them 'anything that looks like it could be decorating a kid's sheets, we should lose.' So we went to a flat black. I also wanted to play with the trains begin staggered, rather than stacked up atop one another, as if they were in motion, pulling in and out of a station - in fact, I had a designer friend mock that up for me. I think we tried some different fonts, too, for my name and the other type - I wanted something less stock-looking, and they came through.
"I was right about the background, and they were right about the trains not being staggered - it would have looked weird. Our communication was really good, throughout - me, KEO, my editor, and the designer. We all basically spoke the same language, and it was a matter of degrees.
"I love the final cover. The art is beautiful and striking, it pops from across the room, and the treatment they did on it – the quality of the jacket paper and the matte, the intensity of the colors, the palette they used for the spine and flaps and back. I'm really, deeply pleased with it. KEO is a master of letterforms, and his art lends just the kind of credence to a book about graffiti artists that I wanted."
Thanks, Adam! I love how collaborative this cover was, and that all had a voice. The amazing graffiti writing gets the spotlight here, and that's as it should be. Great cover.
What do you guys think?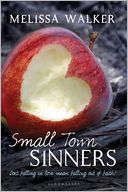 Melissa Walker is the author of six Young Adult novels, including the new paperback release, Small Town Sinners (pictured). Her author blog, where Cover Stories originated, is melissacwalker.com. Follow her on Twitter @melissacwalker.
Keep up with Barnes & Noble's exclusive reviews, authors interviews, videos, promotions, and more by following @BNBuzz on Twitter!
Permalink