Thread Options
Mark as New

Mark as Read

Bookmark

Subscribe

Email to a Friend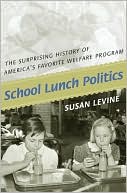 Susan Levine, professor of history at the University of Illinois at Chicago, "has succeeded in writing the rare policy history that is also a page turner," according to Meghan K. Winchell, Reviews in American History. On the question of how to illustrate such a title, Levine had some opinions.
Here is her Cover Story:

"As I was writing my book, School Lunch Politics: The Surprising History of America's Favorite Welfare Program, I was continually looking for images both to illustrate points in the book and, ultimately for the cover.

"I found an image I thought would be perfect for the cover. It was a photo from a 1940s CIO newspaper of a group of children in a school lunchroom. But the production department told me the quality of the original wasn't good enough to reproduce so they sent me an alternative. It was a picture of a school food tray with a hotdog and French fries – exactly the type of image I wanted to avoid!

"I didn't want my book to be viewed as yet another book about bad food! I wanted the message to be that the quality of food in our schools – and the decisions about which children get subsidized meals – are the result of political choices. That's why I insisted that the cover had to have people in it – preferably children – not just 'bad food.'


"I went around and around with the marketing department. They thought the book would sell better with a hotdog on the cover. In my view, they didn't understand the point of the book at all.

"Finally, though, someone in marketing came up with a photo of two girls drinking milk in a 1940s school cafeteria. It was similar to my original choice so even though one of the girls is drinking chocolate milk, I decided it was close enough to my vision to agree to use it. After that, it was smooth sailing. I really liked the design the publisher came up with and have been happy with the final product."

Thanks, Susan! I, for one, am glad there's not a hot dog on the cover. That feels more Coney Island than School Lunches to me. I also think the inclusion of schoolchildren is important -- this is at least partly their story. (And in black and white, I can't even tell that one girl has chocolate milk!)
What do you guys think?
Permalink