Thread Options
Mark as New

Mark as Read

Bookmark

Subscribe

Email to a Friend

Mark Shulman's debut novel, Scrawl, has a distinctive cover (and quite the Cover Story!). He graciously granted me an interview, and here it is:
Did you have an idea in mind for your cover as you were proposing/writing the book? If so, what did it look like?
Scrawl is my first novel, YA or otherwise. I didn't have a title until the book was mostly finished. I just called it "the book." If anything, I went out of my way not to think about the title, or utter its name, as if some voodoo might befall it. So, no, I had no idea what the cover might look like.
Did your publisher ask for your input on the cover design before the art dept started working? If so, what input did you give?
I was incredibly lucky to be working with my editor, Neal Porter. He's a superb editor, one of the best, and he's become a true friend. Neal has a great intuition for collaborating with creative people. He knew that I've worked on a lot of books – picture books, nonfiction, and preschool books – and that I'd have opinions. I'm sure he suspected that I'd appreciate having some input. So Neal invited me along to a cover meeting with the art director.
What did you think the first time you saw your cover? Truly!
We arrived a bit early to the cover meeting, and the designer wasn't there. Roaring Brook is a part of Macmillan, and they're in New York's Flatiron Building. So I just sat in that triangular wedge of an office in that triangular wedge of a building and I stared out the window – Madison Square Park, the Empire State Building, Broadway, and the Toy Center are all outside that one window. I'm actually a tour guide as well, and I was appreciating a lot of familiar stories from a new vantage point. I was so happy, my toes were curling.
In an environment like that, I was geared to approve anything. Black type on black? Excellent. Corrugated cardboard with a spiral bind? Great. Cover torn off, remainder-style? Why not! Fortunately, those weren't the choices. Anne Diebel, the art director introduced herself, and I think she's tremendous. Really a tremendous artist. And that would be true even if she hadn't liked the book.
I didn't answer your question, did I?
Not at all. But did the editor and designer let you make comments/suggestions on the cover?
Anne showed me two covers. They were illustrations, in two different styles, of the narrator, a tough-guy teenager named Tod Munn. Tod's a smart-mouth, with a checkered past. And except for his being overweight, he's very intentionally not described in the story. Not at all.
Remember what I said about not naming the book? I realized at that moment I also didn't have a single vision of Tod. I'd spent all my time inside his head, in the first person. Whatever he looked like, it wasn't these guys in the illustrations. Very good illustrations they were, they just weren't Tod.
Uh oh. Now I'm in the art director's office. My editor has very kindly invited me along to the kind of meeting I know many novelists don't get to attend. And I'm hoping my nodding and grinning aren't too obvious. I am ready to give them a blank check. I just want to surrender in style.
Did I mention Anne is tremendous? She must have read my mind, or seen me clutching my heart, one or the other. She came around the desk and tore off a corner of a piece of paper. "I've also got this idea…" she said, and she scribbled an inch-high human head that's almost exactly as it appears on the book cover. I got the concept immediately. And I was thrilled.
Did the art dept take those comments/suggestions to heart?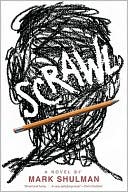 I knew the difference between a courtesy and a vote. I didn't think I had a vote. But would that actually stop me? I emailed Neal that afternoon with my thanks, and reiterated my rousing support for the scribble-head cover. I never mentioned it again. Three months later I was at my first public reading and Neal was in the audience. I got off stage and he handed me his smart phone. There on the screen was my cover, fresh-pressed. That's where I saw it first.
Did the cover change much from the original version you saw?
Hardly. Anne added a long pencil (left), which added a necessary pop of color. That version is the one you see on most of the web sites. Toward the end, she changed the pencil to a shorter and lighter version. I like that one even better. The type became lighter to match the pencil's yellow-gold, which really sings, and the word Scrawl, knocked-out in white, is the epitome of teen angst and attitude and graffiti. I couldn't be happier. Plus, the cover image lent itself very well to the quickie video I made for the book. Talk about lucky.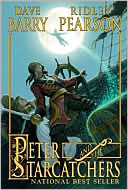 Do you know if your cover was shot with a model or still life, or if it is a stock photo that the art department found that could capture the feeling of the book?
Neither. It's original art commissioned for the book. I love it. One day I looked up the artist online – Greg Call is his name – and it turns out this guy can paint. For instance, he does those gorgeous, realistic covers for the Peter and the Starcatchers series (left). I guess Picasso was right, you can't do abstract until you can do realistic. I'm paraphrasing, of course.
How do you feel about your cover, in the end?
I honestly can't believe how much I like the cover, and how distinctive I feel it is. In the ideal I wanted Scrawl to be a timeless book. I didn't want it rooted in the year 2010, so I took out any references I could that might date it. I wanted the book to reflect a tough kid making tough choices, and to appeal to similar teenagers – boys primarily – but not turn off the girls. (The females are the strongest characters in the story.) I didn't want to show a schoolgirl from the knees to the floor. And finally, I wanted the cover to be recognizable across the room. Anne Diebel and Neal Porter made it all happen. And I'll always be grateful.
Thanks, Mark! What do you guys think of this final cover?
Melissa Walker is the author of four Young Adult novels, including the Violet trilogy and Lovestruck Summer. She is co-creator of the popular teen newsletter I Heart Daily and the new awkward-stage blog Before You Were Hot. Her author blog, where Cover Stories originated, is melissacwalker.com.
Permalink