Thread Options
Mark as New

Mark as Read

Bookmark

Subscribe

Email to a Friend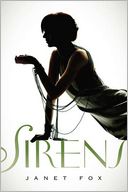 Janet Fox has some of the most beautiful covers in books today, in my humble opinion. Her latest novel, Sirens, is different from her first two Young Adult titles, but it has an elegance that stays consistent.
Here's Janet to talk about the cover: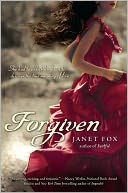 "I pictured something kind of dark for this book. The premise is darker than my previous two YA's (Faithful and Forgiven, right) and the mystery deeper; and the 1920s have this mystique of being liberated and fun, and Sirens plays with that concept, I hope turning our preconceptions on their collective heads. So I imagined a very dark cover with lots of black and a bit of white and maybe glittery gold. Plus I thought it would contain images of two girls, since I tell the story in alternating points of view.
"My editor, Jen Bonnell, always asks for my input, which is so wonderful. We talked about the black and white and the two girls – we also talk about what the girls look like (hair color, eye color, etc.) and even what they wear in parts of the story.
"When I first saw the cover, I was in a motel... my husband and I were driving north... and I opened my email and shrieked. I was so excited. I thought it was perfect. And Jeff came over and peered at the screen and said, 'Holy mackerel,' and gave a wolf whistle. So it got a rousing thumbs-up from both me and 'the guy.'
"Here I was expecting something dark with two girls – and this is even better. My editor is always open to suggestions – and has taken them in the past – but this time I just said, 'I love it!!' And this is ironic considering I was expecting 'dark'.
"But it works, almost because it thwarts expectation, just as I hope Sirens thwarts expectations. I'm betting it's a stock photo – all of my covers start with stock photos – but I've been thrilled with each, and think that the art department does extremely clever and creative things with stock. I've actually heard from one of my cover models (the one who posed for the Forgiven shot), and she was so delighted with what they did, and that makes me feel great.
"Plus the pearls she's wearing kind of look like chains. Which so fits the way Jo and Lou both feel. These girls are interchangeable in the sense that one is what the other could become if she isn't careful, and so the single girl who seems to be searching for something, well, the metaphor is perfect. I'm so happy people are noticing how that is playing out. How she seems to be looking for something (there is a core mystery.) How she is mysterious – she could be either Jo or Lou. And the color and style of the green dress has been incorporated into the novel in a pivotal scene. The 'deco' styling of the lettering and the backdrop are also perfect.
"I couldn't be happier."
Thanks, Janet. I have to admit that, at a glance, I saw gorgeous dripping pearls. But now that the word "chains" is in my mind, I absolutely see handcuffs, something more sinister and shadowy here. How very cool.
What do you guys think of this cover?
Melissa Walker is the author of six Young Adult novels, the latest of which is Unbreak My Heart (pictured). Her author blog, where Cover Stories originated, is melissacwalker.com. Follow her on Twitter @melissacwalker.
Keep up with all of my blogs – as well as all of Barnes & Noble's exclusive reviews, authors interviews, videos, promotions, and more – by following @BNBuzz on Twitter!
Permalink