Thread Options
Mark as New

Mark as Read

Bookmark

Subscribe

Email to a Friend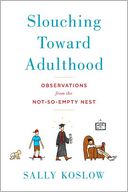 Sally Koslow'
s non-fiction debut has two covers for us to consider: The original hardcover and the paperback, due this spring. Both have distinctive looks and a cheeky tone. Here's Sally to talk about her perspective on the design:
"In writing three novels, I had many ideas for covers, but I couldn't imagine an obvious design for
Slouching Toward Adulthood: Observations from the Not-So-Empty Nest
, my first non-fiction book. Its terrain is broad, covering many aspects of the lives of adultescents in their 20's and 30's as well as concerns of flummoxed Baby Boomer parents. And while the tone is rather sly, far from a purely academic treatment, the content reflects major research. There is also a memoir-ish aspect to this book. To create a cover that encompassed all of this was a challenge.
"The first time I saw the design, I thought,
brilliant
. The art department nailed it, creating an illustration that riffed on the classic illustration showing the different stages of man and coupled it with strong, elegant serif type in two colors. The cover captures the book's humor, distinguishing it from dryer books related to this topic written by sociologists and psychologists, not a parent/journalist who throughout the book is often laughing at herself and other parents.
"There's never only one approach that's right for a book. Online or in hard copy, I adore the cover for
Slouching Toward Adulthood,
but when I saw the book in stores, while I admired the cleverness of its design, I wondered if it wasn't too quiet. The cover doesn't shout at you from across the room because its background is white and the illustration is best appreciated up close, already in your hand. I'm happy that for April's paperback, we'll take a different approach. It's equally wry, but bolder and on an orange background. When I saw this cover for the first time, I actually laughed out loud."
Thanks, Sally! See the hardcover vs. paperback below. What do you guys think?
Melissa Walker is the author of six Young Adult novels, the latest of which is Unbreak My Heart (pictured). Her author blog, where Cover Stories originated, is melissacwalker.com. Follow her on Twitter @melissacwalker.
Keep up with Barnes & Noble's exclusive reviews, authors interviews, videos, promotions, and more by following @BNBuzz on Twitter!
Permalink