Thread Options
Mark as New

Mark as Read

Bookmark

Subscribe

Email to a Friend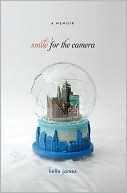 I was instantly drawn to Kelle James's memoir, Smile for the Camera, when I saw it on the table at Barnes and Noble. The shattered snow globe and tiny figure inside it seemed to speak to a whole world that I wanted to know more about. Let's start with hearing from Kelle about the cover. Here she is:
"You can't judge a book by its cover—unless Lucy Ruth Cummins designed it!
"This being my first book, I had no idea what to expect. So, when my editor, Courtney Bongiolatti, emailed me the initial artwork, I literally gasped. It's powerful simplicity left me nearly speechless.
"My memoir details my teenage years, a tumultuous time in New York City. A time when, for reasons beyond my control, I was without family or money and struggling to find my place in an oftentimes, overwhelming world. The tiny replica of me standing in the middle of all those massive New York City buildings, looking out through the shattered snow globe glass captures the spirit of Smile for the Camera perfectly. There are so many levels to it. The more I look at it the more I see. Like capturing the idea of being on display. Smiling for the camera, looking happy on the outside while concealing what's on the inside. And yet, the broken glass foreshadows the fact that things are not what they appear to be. Lucy's ability to evoke so many emotions in a single image is outstanding.
"I asked Lucy for some general comments about her design process and this is what she said…
"'Kelle's words really spoke to me and reminded me of when I first arrived in New York, and of being a discombobulated teenager. I knew as I was reading that I wanted to show a contrast between expectations and the reality of the big city, and shattered dreams factored large. I began brainstorming ways of conveying the city as a tourist/idealist might see it-objects and images that evoked that-and did pencil sketches of a few different approaches.
"'The shattered snow globe certainly seemed the most iconic and evocative, and once I'd gotten approval for this direction, I spent several lunches browsing the hundreds of snow globe options in Times Square.
"'This particular snow globe felt the most right to me. Kelle arrives at Port Authority Bus Terminal, which is adjacent to Times Square, and I liked the idea of evoking that sensory overload and the true New Yorkieness of that bustling area. I modeled the clothes and the bag for the girl from clay and painted them to match the description in the book.
"'I purchased three snow globes in total and the photographer, Jon Pack, and I strategized very carefully how to break them beautifully... and then all of our attempts to do so gingerly, failed. So we smashed 'em with a hammer. But we had to be cautious since we only had those three on hand!'"
"I was not asked for input on the cover design before the art department started working on it but after seeing the cover comp, I had a few minor suggestions—happily, all of which were followed.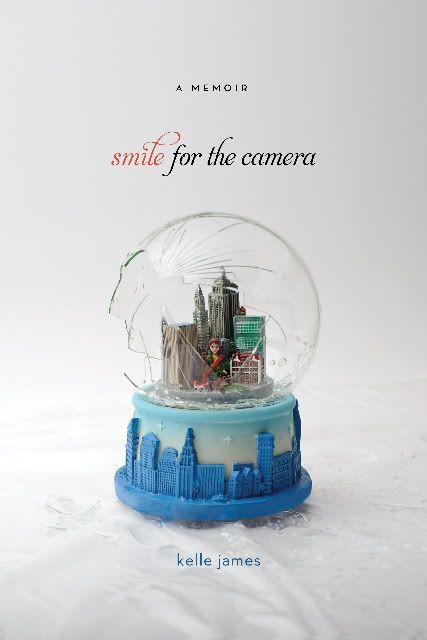 "There were a few changes from the original cover (right)—'My' eye color was changed from blue to brown because my eyes are brown. My red book bag was changed from red to blue because that's the color it is in my book. And the small red and white object sitting at my heels was removed because it was hard to tell exactly what it was. My son thought it was a duck! Other than that, I believe everything else stayed exactly the same.
"Smile for the Camera launched on November 2nd, 2010. Camera in hand, my husband and I went to our local bookstore hoping to find it on the shelf. We hurried straight to the YA section. When we didn't see it, I was crestfallen. Seeing my sad face, an employee asked if he could help me. 'I'm looking for a book called, Smile for the Camera,' I said. 'Oh,' he said as he led us toward the front of the store. 'That's on our Best Picks of 2010 table.'
"The next minute or so was taken up with a lot of jumping around and squealing. And then there it was. My book. I picked it up. The white cover, the font, the blue accents, the extra shiny cracked globe and glass shards—it was stunning.
"The employee asked if he could take a picture. I held my book up, 'Smile for the camera,'" he said as the flash went off.
"As he left, he looked back over his shoulder, 'By the way—great cover.'
"Doesn't get much better than that!"
Thanks, Kelle! I love the cracked snowglobe, and hearing the meaning behind it, and especially what the designer was thinking, makes it even more compelling. I also adore that the little 'you' matches you more precisely after your notes!
What do you guys think of this cover?
Melissa Walker is the author of four Young Adult novels, including the Violet trilogy and Lovestruck Summer. She is co-creator of the popular teen newsletter I Heart Daily and the new awkward-stage blog Before You Were Hot. Her author blog, where Cover Stories originated, is melissacwalker.com.
Permalink