Thread Options
Mark as New

Mark as Read

Bookmark

Subscribe

Email to a Friend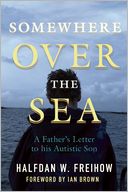 Somewhere Over the Sea: A Father's Letter to His Autistic Son, by Halfdan W. Freihow, has a perfect cover to highlight for Father's Day. You see, not only is the book written to the author's son, but that's also his son on the new paperback cover. Here's Halfdan to explain:
"The story of this cover is - quite a story. It started at sea.

"I had been encouraged to think about shooting a short video of my son Gabriel and myself in our North Sea landscape on the southern coast of Norway, where Somewhere Over the Sea is set. It could be posted on the Internet as a kind of introduction to the book, they said.

"At first I was in doubt. I have always tried to avoid having pictures of him published in print or on screen. It wasn't for me to decide, I thought, if and when he should choose to expose himself like that.

"But when I told a friend about the video suggestion, he came up with ways of doing it that would include Gabriel, but not his face. And so we spent some hours at sea, with a camera crew and Gabriel seated on the bow, very much present, but seen only from the back.


"The video turned out great. Later that year I brought it to the book fair in Frankfurt, where I would meet my North American publisher. She watched it on an iPad, and immediately proceeded to call her home office, instructing the art department to scrap the cover ideas they had been working with. Instead she wanted them to use a frame from the video.

"And there he is, Gabriel in the bow of a boat - Somewhere Over the Sea (watch the video).

"The book has been published in a number of countries, but never before with him on the cover. In several editions, the publishers have chosen to use a stock photo of a boy as an illustration. It has always made me feel awkward to see some stranger 'pose' as my son, especially because the book is written as a letter from me to him.

"But in this edition, Gabriel is both on the pages and on the cover, where he belongs. He is also in his landscape, at sea, where we've spent so many days together, and where many scenes in the book take place.

"Of course, for most readers it doesn't really matter whose picture they see on the cover of a book. But still, I like to think that some of the intimacy that I've tried to portray in Somewhere Over the Sea somehow is strengthened by Gabriel's presence on the cover.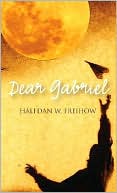 "And if it isn't, you can still enjoy it as a great picture. Thanks to all who made it possible."

Thanks, Halfdan! We also have an image of the original hardcover, right, when the title of the book was Dear Gabriel. The paperback is incredibly different, and I think it works to more clearly represent the book.
What do you guys think?
Melissa Walker is the author of six Young Adult novels, including the newly released Unbreak My Heart (pictured). Her author blog, where Cover Stories originated, is melissacwalker.com. Follow her on Twitter @melissacwalker.
Keep up with all of my blogs – as well as all of Barnes & Noble's exclusive reviews, authors interviews, videos, promotions, and more – by following @BNBuzz on Twitter!
Permalink