Thread Options
Mark as New

Mark as Read

Bookmark

Subscribe

Email to a Friend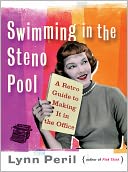 There's something simply arresting about the cover of Lynn Peril's latest book, Swimming in the Steno Pool. Booklist calls it "a totally enjoyable and often funny romp through time..." and that colorful cover sings. Here's Lynn to talk about it:
"My books are illustrated, so I'm pretty visual whether I'm working on a proposal or the final draft itself. I'm not usually thinking about a cover per se, but the images I use as illustrations (vintage ads and photos, pulp paperback covers, etc.) inspire my writing. I did a zine back in the early 90s (Mystery Date: One Gal's Guide to Good Stuff), and I enjoyed finding images and doing the layout as much as I did the writing.
"This is my third book with W.W. Norton and I think they do a fantastic job with book design, both inside and out. The contracts for the last couple of books have stated that I have the right to make comments or suggestions, but I've always been happy with what the W.W. Norton art department has come up without any input from me. On the other hand, my husband (he's a designer/executive creative director at an ad agency) suggested they use a vintage typewriter font for the chapter titles and section headings inside the book. I passed that idea along to them, and they used it.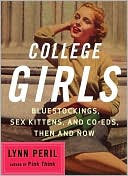 "The cover didn't change much for this book. However, the cover for my last book (College Girls: Bluestockings, Sex Kittens, and Co-Eds, Then and Now) underwent a drastic change. I hadn't heard that it was happening until it was a done deal and was dismayed—at first. It took me a couple of days to realize that it was a big improvement. I recently ran across the original cover design and it struck me as not nearly as sophisticated as the cover that wound up on the book.
"For Swimming in the Steno Pool, the cover designer used a stock photo as one element of an otherwise original design. I'm very happy with it. It's colorful and eye-catching, the latter being exactly what a good cover should be in my opinion. It has a light-heartedness to it, which helps reflect that while I write history, I'm not an academic, and my intention is to entertain readers while they think. The best—or at least funniest—reaction to it so far is being asked if I'm the cover girl!"
Thanks, Lynn! I think this cover says "entertaining and thoughtful" -- and it definitely promises colorful stories.
What do you guys think of this cover?
Permalink