Thread Options
Mark as New

Mark as Read

Bookmark

Subscribe

Email to a Friend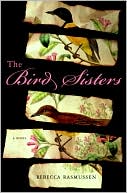 The cover of Rebecca Rasmussen's The Bird Sisters combines two of my favorite things: crinkly paper and pink script. Not to mention pretty birds. I had to ask her how it came about, and here she is to tell the tale:
"When I was writing The Bird Sisters, I kept a photograph of my grandmother Kathryn and her sister Virginia (right) next to my computer since they were the inspiration for the novel. I figured the photograph wouldn't end up being part of the actual book, though it was very inspiring for me to see my grandmother and great aunt when they were girls each morning that I worked on the novel in my favorite coffee shop.
"As far as the cover goes, for a while I kept picturing something in the vein of Carol Shield's The Stone Diaries – the edition where the cover is essentially a black-and-white photograph of a woman we are meant to assume is the main character Daisy Goodwill (below left). I love old photographs, so I think that vision was in my mind initially.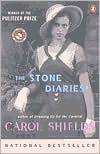 "But to be honest, since I am not an artist I was really open to seeing what someone else who read The Bird Sisters would come up with. I was excited for someone to interpret the book besides me. And that person ended up being the lovely and talented Jean Traina.
"I absolutely loved the cover the first time I saw it and I feel so fortunate to be able to say that! I think Jean Traina is so talented and clever—really, I was jumping around my living room with such joy because she managed to capture the heart of the story in such a beautiful way. From the images of the birds to the lovely looping script, I was immediately smitten.
"Jean found an image of Audubon's birds that she loved and transferred the image to old parchment paper, crinkled the paper, and aged it even further by burning some of the edges before she made a collage out of it and photographed it. This woman is absolutely incredible.
"What I love most about the cover is that it is very unique—unlike anything I have seen. It's so creative and old-fashioned at the same time. I think it sets a perfect tone for the book, which is a story about two sisters who are elderly and still live together in their childhood home in Spring Green, Wisconsin. The cover is classic. I also love the brown background. Yay for Jean! I am definitely counting my blessings.
"The cover that I saw for the first time changed only in the color of the title script. Originally it was green. Now it's pink (which, for all of us, adds a feminine touch that we loved). My wonderful editor Kate Kennedy asked me what I thought, and it just is one of those perfect stories where I didn't want any significant changes and neither did she. My entire experience at Crown has been so lovely. I am so thankful to everyone for always considering my opinion along the way. In the end, the cover exceeded my expectations. I am so proud when I see it in bookstores, and touched, and red-cheeked."
Thanks, Rebecca! I think the cover is delicate and lovely, and the reviews sing its praises.
What do you guys think?
Want to keep up with my Cover Stories, and all of Barnes & Noble's exclusive reviews, authors interviews, videos, promotions, and more? Please follow us on Twitter: @BNBuzz!
Permalink