Thread Options
Mark as New

Mark as Read

Bookmark

Subscribe

Email to a Friend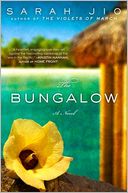 Sarah Jio's second novel, The Bungalow, has been described as "a sweeping World War II saga of thwarted love, murder and a long-lost painting." Swoon. It also has a cover that has me dreaming of sunny escapes. Here's Sarah to tell some Cover Stories:
"I was so head-over-heels in love with the cover for my first novel, The Violets of March [read that Cover Story and see cover, below], that I was worried that I wouldn't end up being able to love a cover as much as the first. And yet, I had no vision for what the new cover should be or look like. The book is set in Bora Bora, so I did imagine blue skies, turquoise waters and maybe a beach bungalow in the distance, but that was all I could think of. In this case, I just knew the best people were working on the cover design and trusted that it would be great, and it was!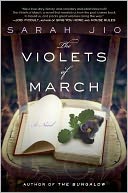 "My heart was beating really fast when I opened the email from my editor with the photo of the cover attached. My first impression was that it was breathtakingly beautiful. I liked how the fonts were the same as my previous novel, and I appreciated how the designer included a flower (in this case, a yellow hibiscus) on the cover in the way they'd done for The Violets of March.
"I'm pretty sure the art department at Penguin didn't travel to Bora Bora for a photo shoot (but what fun if they had!). I'm sure the image was pieced together from a series of stock images (the flower, the bungalow, and the beach). I feel like it's a memorable, beautiful cover that does its job well. I also love that when you look closely, you can see artist brush strokes on the cover, as if it's a canvas for a painting (there is a strong painting story-line in the book)."
"I haven't seen [the cover for my next book, Blackberry Winter] yet, but I expect to any moment now! I know they hope to keep the same flower/nature 'motif' in this new cover, and I think that's really smart, as I hope it helps readers make connections between my books. (I also love how they all look like sisters on bookstore shelves.)
"I have two books coming out in the next 1.5 years ahead, and two more plotted out for the future, and I have to say that I would not be sad (not at all) if my publisher decided to do a fancy inside flap or some embossing on the covers of my future books. How fun would that be? I also think deckle-edge pages are really, really fun. P.S. I also happen to be a big stationary nerd, so this is all very fun for me to think about. Paper, design—my weakness!"
Thanks, Sarah! I love the font consistency and also the floral elements. I think it's so important for an author to have a "look" that readers identify as they build their list of books. And I can't wait to dive into this one.
Check out the trailer too:
What do you guys think?
Want to keep up with my Cover Stories, and all of Barnes & Noble's exclusive reviews, authors interviews, videos, promotions, and more? Please follow us on Twitter: @BNBuzz!
Melissa Walker is the author of six Young Adult novels, including the Violet trilogy, Lovestruck Summer, Small Town Sinners and the upcoming Unbreak My Heart. She is co-creator of the popular teen newsletter I Heart Daily and the awkward-stage blog Before You Were Hot, as well as the blogger for readergirlz.com. Her author blog, where Cover Stories originated, is melissacwalker.com. Follow her on Twitter @melissacwalker.
Permalink