Thread Options
Mark as New

Mark as Read

Bookmark

Subscribe

Email to a Friend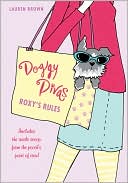 Lauren Brown
's
The Doggy Divas
is a middle grade romp perfect for the impossible-to-buy-for tween in your family. It's a sure thing with an adorable cover that includes glitter!
Here's Lauren with the back story:
"I didn't have a specific image in mind as I wrote, but once the title of the series was confirmed to be
The Doggy Divas
, I knew that it had to be pink, girly and fun. The word 'diva' can evoke two connotations – really stuck up and demanding or really into the things that make being a teen girl so much fun – shopping, boys, friends and fun (in the most positive way, of course). Being a teen magazine editor and writer for over eleven years - I took inspiration from the latter. The cover had to be relatable across the board!
"I was adamant that the cover not look too young as can be the case when writing about tweens and animals. We decided it needed to look sophisticated yet fun – no easy feat. There's a fine line between going totally, over the top girly and keeping it 'cool' for lack of a better word. The trick to marketing to the tween/young teen age group is to make it seem like you're skewing a little older – they would much rather read the things meant for their big sister than things specifically targeted to them.
"When I first saw the cover, I loved it. It looked like something that I would pick up on my own. I loved that you didn't see the girl's face – just her holding the dog (in sunglasses) in a purse. It gave it an air of sophistication without going too young.
"My editor and I both agreed that the perfect touch was to give the dog's sunglasses a splash of glitter – another girly, fun touch that would make us stand out and get people talking.
"The notes were so minor that I barely remember much of a revise. I think everyone 'got it' from the inception of this project what needed to be done to build this brand. This is a series so we had to be sure that the first book really set the tone and got readers excited for the next.
"It was illustrated by an artist who really took the overall theme and vibe of the book to heart. She nailed it from the first draft.
"You know, they say you can't judge a book by its cover – but you can certainly get readers excited about a book by its cover. What I love about the The Doggy Divas' cover is there are so many conclusions that you can jump to by looking at it – and all of them relate to some part of the story. You see a faceless girl carrying her posh, sunglasses wearing pet in a trendy pet bag. You could think that this is a story about a girl that has style, is up on fads and likes to everything from her outfit to her pets to be as put together as possible. And that related to our main character Roxy and her former best friend (and classic mean girl) Liz. But it also could reference the formation of The Doggy Divas and the passion all the girls – Roxy, Kim and Georgia – put into making it the premiere business of Monroe Middle School. I love that the cover really evokes the heart and soul of the book, the characters and the readers that I think would love this story best."
Thanks, Lauren! I am totally into the outfit on the cover—maybe because of my recent affinity for stripey socks—and the glitter on the glasses of the real copy adds so much, um, sparkle! It's one you need to see in person to appreciate. Visit Lauren at laurenbrown.net or on twitter, @LBAuthor.
What do you guys think of this cover?
Melissa Walker is the author of four Young Adult novels, including the Violet trilogy and Lovestruck Summer. She is co-creator of the popular teen newsletter I Heart Daily and the new awkward-stage blog Before You Were Hot. Her author blog, where Cover Stories originated, is melissacwalker.com.
Permalink