Thread Options
Mark as New

Mark as Read

Bookmark

Subscribe

Email to a Friend

The Gin Lovers by Jamie Brenner has a sultry, stylized cover. Turns out it's one of six! Here's the author to tell its tale:
"This was definitely an image-driven book. The look of the time – the clothing, the jewelry, the hairstyles, the interior design – were almost a character in and of themselves. There was a Vogue editorial from 2007 – I think it was even featured in the documentary The September Issue – that is styled like the 1920s. It was shot by Steven Meisel – the most gorgeous flapper-inspired photographs you can imagine. These images (below) were in my mind as I wrote the characters Mae, Charlotte, and Fiona.


"I had a conversation with my editor, Vicki Lame, about the cover. She asked me if I had any ideas but I don't remember if I had anything specific in mind. I'm not the most visual person. If a cover is wrong, I know right away. But sometimes I would rather see what the art department comes up with than try to direct it. And I have never been more pleasantly surprised than I was when I saw the cover of The Gin Lovers. I thought – oh my god, they nailed it.

"This was the first and only cover I saw. And not only did they do an amazing cover for this paperback, the novel was originally published as an ebook serial. So they had to come up with six different covers. And they were all fantastic (below).


"The more I look at the cover, the more I appreciate it. Aside from being just aesthetically beautiful, it perfectly captures a lot about the book: the woman is wearing a wedding band, but the band is behind her back. A piano is in front of her, and she is leaning towards it, almost as if she is lifting out of her seat. In the novel, it is the jazz clubs that show her a different side of life than the safe and sheltered one she has been living. In the photo, she is leaning towards the piano, as in the novel, she must lean towards the future – at great risk."


Thanks, Jamie! Fresh Fiction has said, "If you take Downton Abbey and combine it with Fifty Shades of Grey, you have Jamie Brenner's The Gin Lovers." I think this cover captures that duality!
What do you guys think of this cover?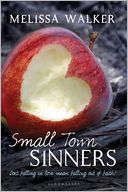 Melissa Walker is the author of six Young Adult novels, including the new paperback release, Small Town Sinners (pictured). Her author blog, where Cover Stories originated, is melissacwalker.com. Follow her on Twitter @melissacwalker.
Keep up with Barnes & Noble's exclusive reviews, authors interviews, videos, promotions, and more by following @BNBuzz on Twitter!
Permalink