Thread Options
Mark as New

Mark as Read

Bookmark

Subscribe

Email to a Friend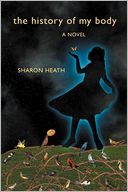 Sharon Heath's The History of my Body features an offbeat and fanciful protagonist, Fleur, who is trying to save her grandfather as she comes of age in a mixed-up family. Representing Fleur on the cover was very important to Heath, and here she is to tell the tale of the cover's creation:
"In 1962, that rascal of American letters Henry Miller published a riotously entertaining essay on writing, painting, and the infinite fluidity of his own imagination. He called the piece The Angel Is My Watermark, and in it he extolled a watercolor he'd created that started out as a painting of a horse – actually, a horse's ass – and, thanks to the convergence of questionable prowess, spills, a crazy-quilt mind, and an irrepressible bawdy playfulness, ended up as what he felt was 'a masterpiece.'
"One of the perks of being published by a small, independent publisher – in my case the Genoa House imprint of Fisher King Press – is the collaborative process available to the author, which might even include the choice of selecting cover art for the book. As soon as I sold The History of my Body, I set out on an expedition, seeking art that would somehow suggest the poignant whimsy of an unusually curious young girl whose path is strewn with roses, failed attempts to turn nature on its head, odd whims of fate, and the mad jottings of quantum physics.
"The image I first had in mind was that of a butterfly, one of the central motifs of the novel on multiple levels, from the butterfly effect of science – in which the flapping of a butterfly's wings in the Amazon might set off a series of events leading to an earthquake in Oklahoma - to the emergence of a budding young woman from the dark cocoon of a personal void. (Since the butterfly is also a symbol of the Greek goddess Psyche, it's also a fitting twofer metaphor for my own twin callings, writing fiction and the practice of Jungian analysis.)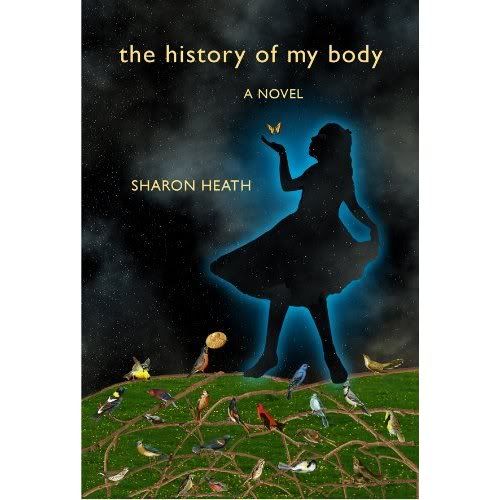 "Given the age we live in, I found butterflies galore on the web – another central image of the book! – and was going bonkers with the myriad options, when a colleague suggested I check out the work of an artist who happens to be based locally, but whose art, illustration, and writing is nationally recognized. Before I knew it, I was thrown into the wild and fertile jungle of Lou Beach's mind.
"Lou's work has lit up the pages of The New York Times, Newsweek, and Wired, and I counted myself lucky that he was sufficiently intrigued by my novel to assay a piece for its cover. The first image he shared with me was astounding – he'd found a way to translate my protagonist Fleur's fascination with the patterns of nature into a ground composed of birds in a tree. He'd caught in a stellar sky the cosmic dimension of quantum physics, in a golden coin a hint of the Nobel prize, in a butterfly whimsically aloft above a young girl's palm the continual beckoning of mysterious unfolding.
"But I found the figure of the girl herself, set in dark silhouette penetrated by the stars of the universe, a little too clunky. So Lou, being the **bleep** cat he is for such a hipster of an art guy, set to work to refine the image of Fleur. I may not have mentioned that Lou's medium is collage, and together we went through several permutations of the central image until we arrived at one that satisfied us both. Because she'd been put together from several parts, Lou teased me by calling her Frankenfleur.
"I was in love with my Frankenfleur, but once the gremlins of typesetting, art direction, and printing dripped their own watermarks onto the mix, the cover had morphed ever so slightly from its original color scheme and composition. 'Ever so slightly' for someone who's publishing her debut novel can devolve pretty quickly into absolute despair. As I wrestled with my inability to fully control the final product, a devil in my mind kept throwing the novel's epigraph in my face. It's the refrain from Leonard Cohen's Anthem, and it goes like this: 'Ring the bells that still can ring. Forget your perfect offering. There is a crack, a crack in everything. That's how the light gets in.'
"Which is pretty much what Henry Miller had been conveying in his phantasmagoric essay. My friends tell me they think I'm nuts when I point out what I see as the pesky flaws in my cover. A saner side of me knows they're right: the cover's amazing. But getting back to those cracked bells and the light getting in, during those early days when the nasty little inner critic who seems particularly designed to torture authors was telling me the whole thing was ruined, I found myself taking refuge in the words inside the cover – Fleur's words, my words. More honestly than ever before, I admitted to myself that I love the story that the two of us have wrought.
"Given the blend of blind hope, grit, and no end of canceled social events and unwashed dishes required to transform an initial inspiration into a finished book, I'd be a horse's ass not to."
Thank you, Sharon! I love the poetic story of this cover, and I think every author can admit to seeing those flaws that others miss. We look so very closely.
What do you guys think?
Want to keep up with my Cover Stories, and all of Barnes & Noble's exclusive reviews, authors interviews, videos, promotions, and more? Please follow us on Twitter: @BNBuzz!
Melissa Walker is the author of five Young Adult novels, including the Violet trilogy, Lovestruck Summer and 2011's Small Town Sinners. She is co-creator of the popular teen newsletter I Heart Daily and the awkward-stage blog Before You Were Hot, as well as the blogger for readergirlz.com. Her author blog, where Cover Stories originated, is melissacwalker.com.
Permalink