Thread Options
Mark as New

Mark as Read

Bookmark

Subscribe

Email to a Friend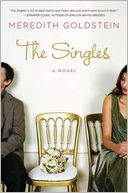 It's tough to create a cover that says "wedding setting" but also is clean and not too gendered. Meredith Goldstein's cover does that, though, so I had to ask her how it came about. Turns out it was a home run from the beginning. Here's Meredith:
"The Singles is about five very different people who happen to be dateless at the same wedding. My only idea for the cover was five silhouettes or five pairs of shoes. My friend Jenn wanted it to be a fancy wedding chair turned upside down. Based on what Penguin came up with, Jenn was on the right track.

"My editor didn't ask for my input, but I did tell her that I hoped that the cover wouldn't be too feminine. It's a book about a wedding, but it isn't frilly, and three of my five main characters are men. I didn't want my men to be overlooked.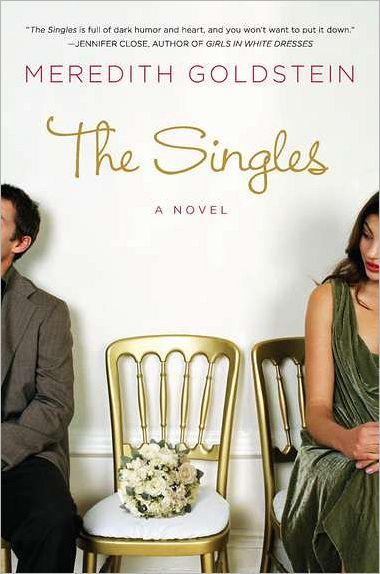 "My first thought when I opened a Jpeg of the cover was, 'Thank goodness.' I loved it right off the bat. I was so relieved that the cover wasn't a picture of a purse or some skinny hot chick with fancy earrings. And I was absolutely taken by the face of the model on the cover. She's gorgeous but not perfect. She's striking. And my name… to see my name so big across the top of the cover … I have to admit, my eyes got watery. The first time I touched my cover was even better. The type is gold foil. It's quite classy, and I like to run my fingers over it.

"I didn't have any suggestions when I first saw the cover, but my agent wondered whether the picture should reveal more of the man's face. In the end we all agreed that we didn't need to see more. I like that he could be any of my male characters.

"I'm pretty sure that Penguin's original take on the cover is what made it to the presses. We just added a lovely Jennifer Close blurb to the top of the book.

"The image is a stock photo from Getty. That means that no one at Penguin knows the identity of the models. I'm a bit obsessed with them. If you're my cover girl and you're reading this, send me an email, please. And if you're the male model, I'd like to take you out on a date, I think.


"I have to say that I love this cover. I feel so lucky. My friends recently pointed out that the female model seems to have a cool gap between her front teeth. That makes me love her even more. Like my heroine Hannah, she's polished but flawed. And that empty space in the middle of the cover – it's just perfect. It mirrors the unfinished business of the book.

"I don't have any early images of the cover, but I'm happy to share my favorite foreign cover of the book, the one from Germany (left), where the The Singles is called Besser So Als Anders. It's pretty cool to see such a drastically different interpretation of the same text. And both covers fit the story well. (In case you're wondering, I've been told the German title means, very roughly, 'Better than the alternative.')
Thanks, Meredith! I love the colors in this cover--gold and green really help avoid an overly feminine feel. Also: You're looking closely to see that tooth gap, but I get it! Flawed models are best.
What do you guys think of this cover?
Melissa Walker is the author of six Young Adult novels, including the newly released Unbreak My Heart (pictured). Her author blog, where Cover Stories originated, is melissacwalker.com. Follow her on Twitter @melissacwalker.
Keep up with all of my blogs – as well as all of Barnes & Noble's exclusive reviews, authors interviews, videos, promotions, and more – by following @BNBuzz on Twitter!
Permalink