Thread Options
Mark as New

Mark as Read

Bookmark

Subscribe

Email to a Friend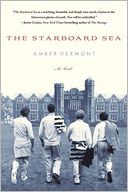 The New York Times Book Review calls Amber Dermont's The Starboard Sea "a novel about the exhilarating freedom of being young and in love with the world, in harmony with nature and with an irreplaceable friend." It has a classic prep school feel, and the image is somewhat nostalgic and regal. The author is here to tell her side of the Cover Story:
"The Starboard Sea is set in 1987 at a prep school, Bellingham Academy, on the coast of Massachusetts. The main character, Jason Prosper is a champion sailor who has just transferred to his new school after losing his best friend and sailing partner, Cal. I knew I wanted a cover image that captured the feel of the late 1980s, the wild coast of New England and the joys of being young. Though the sea is very important to the story, I didn't want something too obvious like boys on a sailboat.


"I love contemporary photography and have always been a big fan of Anthony Goicolea, a Cuban-American artist who grew up in Atlanta, Georgia and is now based in New York. His work often deals with issues of identity, male adolescence, sexuality and discipline. I was particularly drawn to an image, 'Morning After,' (right) from his Detention Series (2001-02). For this series, Goicolea dressed up as a naughty schoolboy and photographed himself in various states of hijinks. Goicolea includes multiple images of himself in each photograph, which lends the photos a particularly arresting and surreal quality. In 'Morning After,' Goicolea includes three versions of himself—three defiant schoolboys in their prep school shirts and ties. The photo is the cover image from Goicolea's self-titled book. I still remember the first time I saw the picture, I thought, 'That's Cal, Jason and Tazewell,' three of the main characters in The Starboard Sea. Goicolea's book was a constant companion and source of inspiration.

"My publisher, St. Martin's, graciously and generously asked for input. I think it's important for writers to be prepared to submit images or design ideas that might best represent the heart of their book. Though there are no guarantees, it does help to give your publisher suggestions for your dream cover. With this in mind, over the years, I collected images from John Currin, Julia Fullerton-Batten, Tina Barney and Rineke Dijkstra. Many of these images were portraits of individuals who reminded me of characters in my novel. Tina Barney's photographs were particularly inspiring. I shared those images along with Goicolea's work with St. Martin's and they were very receptive to the idea of a cover image that captured the spirit of male camaraderie and the prep school life.


"When I saw my cover, I loved the black and white image of the four boys striding across campus. The cover image suggests several narratives and begins to tell the story of the novel. That's the absolute best a writer can hope for—that the cover provides a context for her work or hints at the mysteries inside. I instantly wanted to pick up the book and that was the luckiest feeling in the world.

"I know that the building is the Main Hall of Wagner College on Staten Island, New York. The building has an impressive façade and has been used in films—School of Rock—and even appeared on the cover of Newsweek. I don't know anything about the four boys modeling on the cover but they are curious to me and I like to make up different stories for each one. All four boys actually remind me of guys I went to prep school with so each one has a secret nickname.

"I feel like the cover represents a moment of hope in the novel when Jason Prosper is still untouched by scandal or tragedy, when he is just a boy among his friends. But there is something unsettling to me about the confident way those boys move across the cover, something that suggests the dangers of unchecked privilege. Those boys believe that they have the world at their feet and I worry about the harm they may cause. Still, I am most drawn to the hopefulness of the image and the freedom and carefree joy of being young."
Thank you, Amber! I love the almost-blue, almost-red play of image and title, and I certainly get that "unchecked privilege" vibe in a very cool way.
What do you guys think of this cover?
Melissa Walker is the author of six Young Adult novels, the latest of which is Unbreak My Heart (pictured). Her author blog, where Cover Stories originated, is melissacwalker.com. Follow her on Twitter @melissacwalker.
Keep up with all of my blogs – as well as all of Barnes & Noble's exclusive reviews, authors interviews, videos, promotions, and more – by following @BNBuzz on Twitter!
Permalink