Thread Options
Mark as New

Mark as Read

Bookmark

Subscribe

Email to a Friend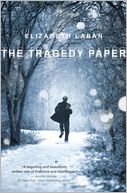 Elizabeth LaBan's first novel, The Tragedy Paper, has shades of Jay Asher's Thirteen Reasons Why and John Green's Looking for Alaska. Its snowy cover is perfect for a winter debut--it's out January 8th. Here's Elizabeth to tell us about the cover process:

"The book takes place at a prep school in New York that was, in my mind, based on a school I went to for my last two years of high school. I guess I imagined the cover would be an image of the school – maybe the quad or one of the buildings. Now that I think about it, I didn't have a strong picture of what the cover would be while I was writing the book. That strikes me as funny, in light of one of the questions I answered at the back of the book. I was asked about the initial idea for The Tragedy Paper, which led me to talk about how I have wanted to write a book since I was in fourth grade. At that time, I worked with a friend and we created a character named Chopped Suey – but all we ever did was design and redesign the cover! So I guess it says a lot about my progress as a writer that I was finally able to get away from that and focus on the words!

"I knew there were a few covers in the works, but I was not brought in to talk about it until there were two possible designs. I have to say, I'm glad about that because I never could have come up with this cover – and now I can't imagine any other image on the front of the book. I would love to give a shout out to the jacket designer Stephanie Moss!

"I was shown two covers. The one that was ultimately chosen was the one I liked best and, to be perfectly honest, I liked it immediately. I still think about the second cover sometimes, the one that was not chosen. It showed a boy walking across a snowy field toward a building that was supposed to be The Irving School but, to me, it was not the school that I had in mind. The building looked more like an intriguing rundown mansion. There was a slightly pinkish tone to that cover – very different from the snowy blue we went with. I liked that, but worried it might appeal more to girls than to both boys and girls – which is who I hope will buy the book. It was a beautiful cover, but not the cover The Tragedy Paper was meant to have. There is no question that this is the perfect cover for the book. I still feel excited every time I see it.


"This is the first time that I've gone through this process – so I am not sure what is typical and what isn't - but I felt completely included in the final decision of which cover would be used. My editor, Erin Clarke, was very interested in my opinion of the two covers that were presented – and ultimately went with the one my agent, Uwe Stender, and I preferred (that might have just been a coincidence but I felt good about it).

"The basic premise has remained the same, but the title is now more readable than it initially was. Also, I have not yet seen the final book – I have seen only the ARCs which are soft cover. The book will be hard cover and I think, if I understand this correctly, there will be some parts with a matte finish, and then shiny water marks to make the snow come to life. I can't wait to see the final book!

"I don't want to give too much away, but in many ways this scene on the cover is what everything is leading up to. Readers know pretty quickly that something happened on a snowy night, so I love the idea that this image is with them while they are reading the book. Once the book is out there, if readers do see any hidden meaning in the cover, I would love it if they shared it with me."


Thanks, Elizabeth! I think the blue fits the tone of the story perfectly, and I especially love the blurry snowflakes in the foreground of the photo.
What do you guys think of this cover?
Melissa Walker is the author of six Young Adult novels, the latest of which is Unbreak My Heart (pictured). Her author blog, where Cover Stories originated, is melissacwalker.com. Follow her on Twitter @melissacwalker.
Keep up with all of my blogs – as well as all of Barnes & Noble's exclusive reviews, authors interviews, videos, promotions, and more – by following @BNBuzz on Twitter!
Permalink