Thread Options
Mark as New

Mark as Read

Bookmark

Subscribe

Email to a Friend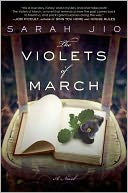 Today marks the release of Sarah Jio's debut novel, The Violets of March. The cover has a soft touch, an antique feel and gorgeously muted colors. I had to ask her how it came to be. Here's Sarah:
"I didn't have a clear vision of what I wanted the cover to look like, but as a first-time novelist, I was very nervous about whether I'd like it or not. I'd heard horror stories from writer friends at other publishing houses about covers they dreaded. And while I believed Penguin would do a great job, I still fretted about whether I'd like the end result, and especially, whether the cover image would match the 'feeling' of the story I'd worked so hard to create. Fortunately, when I saw it, it was love at first sight. Whew!
"I wasn't asked for input, but I know I did bug my editor a few times about when the cover was coming. A good friend of mine, Camille Noe Pagan, the author of the forthcoming novel, The Art of Forgetting (Dutton, June), and I share an editor at Penguin, and her cover came first. She shared the image with me, and it was so beautiful, I took this deep sigh of relief. I knew they were on a beautiful-cover role, and that I could expect great beauty for mine, too!
"I have this terrible habit of keeping my Blackberry on my bedside table at night (so distracting!), and I turn it on the second I open my eyes in the morning. As my messages loaded up, I saw an email come through from my editor with the words 'Gorgeous Cover Alert' in the subject head. I clicked, open the image of my cover and squealed with joy, then ran downstairs to show my husband, who was eating his breakfast at the table. We both hovered over my Blackberry and marveled. It was quite a moment for a first-time author—it made the experience feel so real.
"My editor was great about taking input. At first I was concerned that the flower on the cover was actually, technically, a pansy and not a violet, but in the end (and after analyzing photos of violets and pansies online for hours) we decided that the issue was minor, and we went with the original flower image, which was so vivid and pretty. I may get some angry letters from staunch horticulturalists, but I hope they'll forgive us for taking a little artistic license!
"They did change the font color for my name to more of a violet/lilac color to make it pop more, and it looked great.
"I'm not sure if they shot the image or not, but I like to imagine the art team trudging through the forest with that chair and the other props to get the photo just right. Sounds like a fun field trip!
"I am so happy with my cover, and feel so fortunate not to have any qualms or hesitations about the imagery. It fits the story perfectly—sort of whimsical and rustic—and I hope it grabs readers in the same way it grabbed me the moment I saw it. I love how it creates the sense of thoughtfulness, and I especially love the old diary open on the chair. The diary is a very important element in the story, and it's great to see it front and center. They even made sure it was lined with red-velvet (take a close look and you'll see!) to keep it true to the story."
Thanks, Sarah! I love it when the art department pays such close attention to the details of the story--when that happens, as a reader, I flip to the cover often while I read and delight in the visualization of what I'm reading. Plus, may I just say: Pretty!
What do you guys think?
Permalink