Thread Options
Mark as New

Mark as Read

Bookmark

Subscribe

Email to a Friend

Steven Arntson's The Wrap-Up List caught my eye instantly for its brave, sparse design. Turns out the book inspired a great many comp covers, shown below, and both author and art director weigh in for this Cover Story. Here's Steven:
"I had one major fear in advance of seeing cover concepts for The Wrap-Up List. The book has a romance-oriented plotline, and I have misgivings about the covers of some romance-oriented YA books, which often feature blemishless young women with faces obscured by many layers of makeup smoothed to ivory by an equal number of layers of Photoshop. To me, there's something corrosive about that kind of beauty being held up as the invariable 'Romance Standard,' and not long after the book sold I wrote to my editor saying, 'Please don't do that to Gabriela. Please not the many layers of makeup.'

"Fortunately everyone involved was on the same page, and when I saw the first cover concept featuring the image of the envelope I breathed a sigh of relief.

"Once that was established, there wasn't much back and forth between the art department and myself until one afternoon I received a copy of the hardcover in the mail. I knew more or less what it was going to look like, but when it arrived I noticed something I hadn't picked up on before.


"The back cover, where you'd normally see a synopsis of the book's hook and maybe a blurb or two, is totally empty of text. There's only an image of a bank of old mailboxes. These are described in the book—Gabriela lives in an apartment building with a big iron rectangle of mailboxes in the entry hall, each labeled with its corresponding apartment number. My eye immediately went to the box for unit #305, where Gabriela lives. And lo and behold, you can see through the glass a little slip of red paper. It's the letter Gabriela is sent by her Death, which initiates all of the action of the book.

"I was knocked out by this, and by the fact that the back cover of the book was totally emptied for it. It's a bold design move, and just the kind of thing that always intrigues me as a reader. Design can be used so cleverly to suggest all kinds of subtle mysteries, and you can accomplish it without any makeup at all. (Although a bit of Photoshop can help.)"

Thanks, Steven! I also got some input from Art Director Carol Chu, who worked on this cover:

"The story was really unique, which meant to me that the cover approval process could be very unpredictable. Ultimately, it was a great journey. Without giving any spoilers away, the red envelope is very significant to the story in that when the red envelope appears, the story is set in motion. It's a story about first kisses and crushes and death— basically, my dream story. I read this in one sitting and set down to design a couple of directions and ended up showing 6 to the editor (below).


"After discussing, we presented these in our cover approval meeting. Directions 1, 2, and 3, show the importance of the letter and the envelope. Direction number 4 is an ornate mirror. Mirrors were mentioned throughout the story, there's one which is near the mailboxes where Gabriela receives her letter. Directions 5 and 6 are more conceptual, a little older. Direction 6 was more gritty and older feeling. Direction 6 is a initial take on a reminder or note, like a to-do list, which also figures prominently in the story.
"The directions with the red envelopes resonated the most with the cover committee and next steps were to develop that idea more. Taking out all extraneous elements and focusing on the red envelope addressed the concern that this cover could skew too young. I set the type in a typewriter face and added a ghosted to-do list over the image. The editor suggested really playing with the case design, and so we went to town. The cherry on top was really playing with the layout of the entire jacket, finessing it and adding tiny details, like the mailbox labels on the spine! I loved this story and I imagined myself finishing this book, closing it with satisfaction and then lingering on the BACK jacket's image. Every portion of this book was carefully considered and we hope the physical packaging of the book does this special story justice."
Thanks, Carol! I love hearing from both the author and art director--so interesting, right? Also, looking at all the comp covers, I'm impressed by how simple each one is. But I definitely love the final choice the best.
What do you guys think of this cover?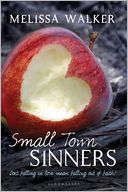 Melissa Walker is the author of six Young Adult novels, including the new paperback release, Small Town Sinners (pictured). Her author blog, where Cover Stories originated, is melissacwalker.com. Follow her on Twitter @melissacwalker.
Keep up with Barnes & Noble's exclusive reviews, authors interviews, videos, promotions, and more by following @BNBuzz on Twitter!
Permalink