Thread Options
Mark as New

Mark as Read

Bookmark

Subscribe

Email to a Friend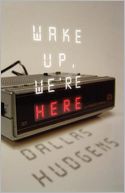 Wake up, We're Here, by Dallas Hudgens is a collection of stories about ordinary lives -- people we know, people we are. But how to represent varied characters in a collection with one image? Dallas explains how his cover came to be:
"The cover designer, Zach Dodson, sent me three proposals. The first was a photograph of a desolate parking lot at sunrise, and the second was a photograph of a man sleeping in the back of a pickup truck. They both looked great, and I didn't want to discount any of the possibilities without thinking it over. But as soon as I saw the third option, the digital clock, I knew it was the one. It was a cover I would have been drawn to in a bookstore. It was unexpected and unlike anything I would have imagined in my own head, and I liked it even more because of that.
"I began to picture this clock in the bedrooms of the book's characters. It fit so well: a grieving mother, lovers, musicians, a murderer, an elderly cancer patient whose granddaughter is stealing his pain medication. I'd been working on these stories for five years, so it was exciting to hand them to an artist who could reveal the characters in a fresh light and create a cover that was not merely packaging but a vision every much a part of the book as any of the stories inside.
"I asked Zach about his inspiration for the cover, and he explains it below:
"'
I've always been fascinated by the modular lettering systems of clocks, train station signs, or any mechanical lettering really. The compromises that must be made to make all the appropriate numbers with just a few shapes end up being really interesting sometimes. Also, I thought it was great for this title. That digital clock is the first thing so many people see when they open their eyes in the morning (or before they close them at night), so it holds a certain sort of intimacy. I had the rest of the title floating away, and the incongruous shadow underneath to sort of stretch and blur the lines of reality a bit. I know that time of the day is a blurry one for me. It felt like a good fit for this collection where so many characters are in liminal states, out on the fringe, or sort of emotionally underwater. The last word serves to shock them into the present moment, just like an alarm.'"
Thanks, Dallas and Zach! When I look at this cover, I see extraordinary ordinary, and it's very compelling. I love hearing Zach's motivations, too--they make perfect sense.
What do you guys think?
Melissa Walker is the author of six Young Adult novels, including this week's newly released Unbreak My Heart (pictured). Her author blog, where Cover Stories originated, is melissacwalker.com. Follow her on Twitter @melissacwalker.
Permalink