Thread Options
Mark as New

Mark as Read

Bookmark

Subscribe

Email to a Friend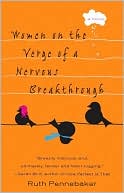 The cover of Ruth Pennebaker's Women on the Verge of a Nervous Breakthrough intrigued me from glance one. Birds on a wire. One with a wig, one with a scarf, one unadorned. One upside-down. I had to find out more. Here's Ruth to talk about the cover design:
"I came up with some pretty banal and inane ideas for a cover. For example, three pairs of women's feet to represent the three main characters in the novel. That's my idea of a great cover, even if it's been done a million times. Sad, isn't it? I just don't have the visual artist or design gene in me.
"At my publisher, they were pretty eager to hear my ideas till they realized how bad they were. I basically hung out at a bookstore (Barnes & Noble, in fact, on Broadway on the Upper West Side of NY!) and wrote down the titles of novels whose covers I liked. I spent so much time looking, I was probably being tailed as a potential shoplifter.
"Luckily, I really liked this cover from the very beginning. It's jaunty and whimsical and offbeat -- just as I'd describe the novel. By this time, I think we were all aware of my artistic limitations, so I didn't say much. But it's like interior decorating: I can't do that, either, but I like to think I have good taste and recognize good decor. With the book cover, I recognized how good it was and how the designer didn't need my advice.
"I think the art department took my lack of suggestions to heart -- and rightly so. I really do like the cover. There were almost no changes at all. Or, if there was change, it was so subtle I didn't notice it.
"The identifying marks on two of the birds -- hot-pink hair and a scarf -- relate directly to what happens to two of the main characters in the novel. The meaning's hidden till you read the book. So I think you should buy the book immediately."
Thanks, Ruth! Time to get to that hidden meaning by looking inside the cover. What do you guys think of this design?
Permalink