Thread Options
Mark as New

Mark as Read

Bookmark

Subscribe

Email to a Friend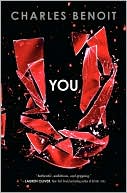 Charles Benoit's Young Adult debut, You, earned this praise from Publisher's Weekly: "Disturbing content blends with skillful, fast-paced writing, adding a thriller spin to the novel's vicious realism." Count me in! And that cover? Shattering. Here's Charles to tell the tale of how it came about:
"I didn't think about a cover until after the book was done because frankly I didn't think I'd see it published. It's dark, which is a good thing, but it's told in second-person and every author knows that that is simply not done. It was only when Harper Teen bought the rights that I allowed myself to imagine a cover. The first idea I had was along the lines of the cover for Blink by Malcolm Gladwell (below) – clean, white, in a lower case Helvetica-esque font. But the more I thought about the book, the darker my imaginary cover became until it was all black with a white typeface font.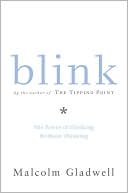 "In addition to writing novels, I work as a Senior Copywriter and Producer for Dixon Schwabl, an ad agency in Rochester, NY. Every day I participate in brainstorming sessions as the art directors work to come up with visuals for the various campaigns. I'm smart enough to restrict myself to high level suggestions and let the visual experts take the lead. I did the same with my cover ideas for You. I told them I saw something dark and text-driven – no cover image, just a few simple words to mirror the simplicity of the title.
"I believe my exact phrase when I saw the cover design was, 'HOLY SH*% THIS IS AMAZING!' Or words to that effect. Thanks to my time in the ad business, I'm able to recognize good design when I see it. Plus the first time I saw the cover, there were a bunch of outstanding art directors in my office and they all ooh-ed and awww-ed so I knew it was a winner. It was these art directors who pointed out a few neat things, like how the cover wrapped around and encouraged readers to pick it up to see the full title, and how the title appears twice on the front cover (YOU and U), how the design would resonate with people used to text abbreviations and how the back and red cover design would lure in the vampire hunters. So yeah, 'HOLY SH*% THIS IS AMAZING!' pretty much summed it up for me.
"The first version I saw was for the ARC and it was plastered with blurbs (right). The whole thing looked rather crowded and, if I didn't know better, I would have panicked. The final version also popped a bit more, with more definition and depth in the red shards. I suppose if I wanted to I could have forced some changes, but I couldn't think of what they could/should do differently. The cover is solely the product of the freakishly gifted and talented artists at Harper Teen.
"And here's something that blew me away. After the big climax and surprise ending, the book fades to black! The first page after the text is a light gray, and each page that follows takes it a bit darker until you hit the last page, which is black. Cool, huh? (I'd like to say I noticed it, but that credit goes to one of the video guys I work with.)"
Thanks, Charles! Judging by all the accolades on that ARC, this is not one to be missed. I also really appreciate the sophistication of this cover. I think it will stand out on the YA shelves.
What do you guys think?
Melissa Walker is the author of four Young Adult novels, including the Violet trilogy and Lovestruck Summer. She is co-creator of the popular teen newsletter I Heart Daily and the new awkward-stage blog Before You Were Hot. Her author blog, where Cover Stories originated, is melissacwalker.com.
Permalink