Thread Options
Mark as New

Mark as Read

Bookmark

Subscribe

Email to a Friend

As I write this I have my own self-imposed deadline to meet -- November 9 -- decided on week one of my six week writing workshop. During the same period I have work to do for my editing clients. And let's not forget about the time I want to spend with my fabulous wife and one-year-old daughter, plus friends, Pilates, and ...Well, you get the picture. You probably have your own version of this scenario.
But it's in my belief that nothing good happens (at least for writers) without pressure. And nothing spells pressure better than a deadline. The clear ones -- Project X due for Client X on X date -- are usually easier for us. There's clarity there. A good person is paying you good money to do good work for her. But what about the good work you want to do for yourself, and ultimately your readers / viewers? Our projects won't get done unless we tighten the screws. If we don't it's only ourselves we end up screwing over. So in that spirit, here's how to avoid your writerly life becoming a screwball comedy:
Top Three Tips for Meeting A Deadline.
1. Lower Your Expectations
I had a friend who never played any sport, or tried any new food or did anything that he couldn't guarantee he could do perfectly. His boyfriend was a fabulous and fun tennis player, but my friend was too worried about playing a less than perfect game to ever get on the court. This same friend rarely ate anything different at age 40 than he did at age 20. Why? He didn't want to look silly eating in public.
Sounds silly, right? And yet, we all have that streak in us. That scared, child-like voice that says "If I can't do this perfectly, I won't do it at all." What to do? Just begin, and EXPECT your worst. You'll either be pleasantly surprised, or you'll at least get words on the page. It's much easier to edit a draft than to get those initial crappy words down on paper. Bring your most incompetent but fun-loving self to the table, Mabel!
2. Tell Five People About Your Deadline
Much of my work as a writing coach involves nagging and nudging clients. If you don't have me (ha!) you can certainly cajole your friends or family into reminding you about the deadline you've set. It's simple but it works. Try it you might like it!
3. Use Skills That Help You to Meet Other Deadlines
Your plane leaves at 3pm on Monday. You have to pack and get things done before you leave home. You have to get to the airport extra early to deal with lines, security, etc. How do you do it? Write out on paper what actually helps you to get on that plane (vs. missing your vacation or work obligation and losing lots of money). Apply to your writing deadline! Ditto, what helps you to get your so-called "real work" done on time? Whether it's psychological tricks, a way of working effectively...write those things down and apply to your creative deadline. "But, it's not the same!" you cry. But it is, darling! You're a writer; use your imagination!
For more clues, tricks and wisdom, check out my book,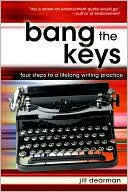 Permalink