Thread Options
Mark as New

Mark as Read

Bookmark

Subscribe

Email to a Friend

We've got a striking juxtaposition this week, between M. Keith Chen's Yale paper on how the strong future tense of English makes the future seem far away and us less prepared for it and John Brockman's fascinating compilation of essays This Will Make You Smarter. Does English syntax leave us fat, broke, and smoking, as Vice's Motherboard article on Chen puts it? We better read Brockman!
Chen's hypothesis on how English syntax affects our notion of present action and future result is fascinating but disturbing. Do we put off preparing for the future because our verbs make it seem so far away?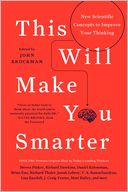 John Brockman's latest book,
This Will Make You Smarter,
may be exactly what we need. The founder of
Edge.org
, "the world's smartest website," Brockman is a literary agent whose life's work has been about bridging art and science. His site is a sort of online salon, a perpetual Q&A among the most prominent thinkers, provocative writers, and visionary scientists of our time.
In his latest book Brockman asked everyone from Alan Alda to Clay Shirky to Richard Dawkins and others, "What scientific concept would improve everybody's cognitive toolkit?" Their answers make up this wonderful, lively, thought-provoking book. Some of it may sound like the latest group-think hooey, the latest flavor of bourgeoisie pop-psychology business-speak self-improvement with a dash of digital buzz thrown in, but many of the essays propose innovative ways of looking at and working with the world that may, indeed, make us smarter.
And why do we need to be smarter? Welll, as M. Keith Chen's Yale paper pointed out, as a group Americans are heavier and save much less money for the future than Chinese and Germans do. He posits that it may be because of the way English handles the future tense. As Vice's Motherboard article on Chen sums it up:.
"That's the argument posed by this wonderful conversation-inducing paper (PDF) written by M. Keith Chen at Yale. Chen posits that the differences between cultures' approaches to savings, health, and other long-term issues are rooted in grammar and syntax. In essence, he says that some groups don't care about having an empty IRA and smoking a pack a day because the way they talk makes the future seem far enough off to ignore.
David Berreby at Big Think breaks it down well:
Being clear about the timing of your topic turns out to be one of the areas where grammars differ. Some tongues, including English, are strong future-time-reference, or FTR, languages: If Chen, a professor at Yale's School of Management, wants to say he can't meet you tomorrow because he has a seminar, he has to say "I am going to listen to a seminar." On the other hand, others are weak FTR languages. In Mandarin, Chen would say wo qu ting ji angzuo ("I go listen seminar," where "go" just means that he's heading over, nothing to do with when).
The issue is not that English speakers don't realize that the future exists. But because strong-FTR languages like English or Spanish make a greater distinction between the present and the future, we may be more likely to ignore long-term consequences and trends. But for [sic] a weak-FTR language, like German or Finnish, may make speakers feel like the future is more immediate."
The very excellent Motherboard article goes on to point out that correlation does not equal causation, and that perhaps culture shapes language more than or as much as the other way around. Finns aren't exactly known for their abstemious habits, after all, no matter what affinities their language has with German.
Provocative stuff! I'd love to see Brockman get some of the Vice Motherboard folks in on the conversations at Edge.org. There's a lot of smart stuff on both sides, and some silly stuff, too. Just the way I like my syntax.
Want to keep up with my reviews and all of Barnes & Noble's exclusive reviews, author interviews, videos, promotions, and more? Please follow us on Twitter: @BNBuzz!
Ellen Scordato has 25 years' book publishing experience as an editor, copy editor, proofreader, and managing editor. She's now a partner in The Stonesong Press, a nonfiction book producer and agency. In addition to her work at Stonesong, Ellen has taught grammar, punctuation, and style at the New School for more than 12 years in the English Language Studies department and taught English as a Second Language at Cabrini Immigrant Services and the College of Mount Saint Vincent Language Institute.

Permalink