Thread Options
Mark as New

Mark as Read

Bookmark

Subscribe

Email to a Friend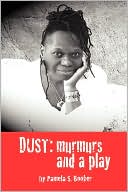 Pamela Booker's "Dust: Murmurs and a Play" is the product of this artist's utterly individual exploration of text, image and performance. Below my interview with Ms. Booker:
Jill Dearman: Politics and art are huge themes in your work. When did these subjects first become important to you?

Pamela Booker: Politics and art have always been life themes for me, I suppose, as someone whose lived through important generational movements from civil rights through to the AIDS activism era. I relocated to New York from my hometown of Philadelphia in the early 1990s, when performance and drag artists, poets, writers and dancers, were generating exciting testimonials about the lack of governmental urgency for AIDS funding. But even before then, when I was a kid, I was always threatening my parents that I was going to run away and join the Black Panthers; I was always reading the Communist Party Manifesto at Girl Scout camp!

JD: What a fabulous image! Did you sell many thin mint cookies? How long did it take you to complete "Dust" and where did the original idea emerge from?

PB: Dust began as my Performance Thesis while a graduate student in the Gallatin Program at NYU. My first classes started the week before the events that would define September 11th occurred. I was home when the planes hit, preparing to leave for class that day. Like so many of us, I found myself glued to the television, anxious for any information, especially since one of my roommates at the time, worked in the World Financial Center. (Fortunately she returned safely). Media began to recycle a series of images that captured the first responders and survivors that were of course heart-wrenching. That was the first time I saw the picture of a Black woman covered in dust and soot, head to toe, whom they referred to as "Dust Lady." It was a haunting and arresting image. I had to know who she was. I began a draft, originally a one-character monologue in early 2002, following U.S. occupation in Afghanistan, that of course became the "War on Terrorism." The first completed script was staged at HERE, a downtown theater space in NYC in 2003 and published in 2008.

JD: What prose writers and playwrights have had the most influence on you?
PB: My writerly influences are diverse and would include fiction writers Jeanette Winterson, Toni Morrison and Gabriel García Marquéz for their strong magic realism leanings, and August Wilson, Suzan Lori Parks, Anna Deavere Smith, and Tom Stoppard, as playwrights who encourage audiences to think about the world we live in. I love, love poets, too many to list, but especially those who breathe fiery language and social justice in their work such as Ntozake Shange, Sapphire, and some of the younger spoken-word artists like Suheir Hamid, whose mix of political artistry is inspiring. I've also been strongly influenced by cultural writers Roland Barthes, bell hooks and Farah Jasmine Griffin and performatively, by choreographers Bill T. Jones and Urban Bush Women.

JD: As a teacher what do you think are the two most important things young writers should be conscious of?
PB: As a writing teacher of undergraduate college students at NYU and Goddard College, I often speak to them about writing with intention as a reflection of themselves and a flourishing character. And secondly, to observe how the elements of a character that is flourishing, that is honest and attentive, actually moves through the "mechanics" of the writing process with more clarity.

JD: What's up next for you?

PB: My newest project, Sacred/Pretty/Smart: notes from her performative mind, is a book-length set of writings that explores sacred and creative practice through the lens of jazz musician Alice Coltrane, (the late wife of John Coltrane), opera vocalist Jessye Norman and conceptualist-philosopher Adrian Piper, whose creative expressions, in this odd way, represent my own understanding of art and beauty, intellect, faith and creativity. They've been recurring themes in my work and I want to examine some of the ideas that have been floating through my mind.

I also hope that Dust will have a new life with the tenth anniversary of 9-11 on the horizon and as one of the many stories that deserves an audience.
JD: Indeed! And for more on the craft of writing please pick up my book, Bang the Keys and visit the website: http://bangthekeys.com.
Until next week, I leave you with this question: have you used 9/11 in any of your writings?
Permalink