Thread Options
Mark as New

Mark as Read

Bookmark

Subscribe

Email to a Friend
I went to, gulp, my twenty-year high school reunion this past weekend. It's funny how after not seeing many of my former classmates for two decades, how easily we reverted back to our high school-like behavior. Once cocktails were consumed, behavior became rather juvenile (in a fun way), old rivalries were brought up and even some crushes and first love feelings resurfaced. And the same clicks quickly formed around the room. The popular crowd, the jocks and the band geeks (although geeks are chic now!). And it got me thinking about those roller coaster relationships we all experienced in high school: first loves and friendships. And it reminded me of some great novels that take me back to those "intense" emotions I felt as a teenager that had me professing my love on the back of our butcher paper covered text books, spilling my heart out to my diary or crying what felt like endless tears over something that was probably small, but felt huge to me.
FRIENDSHIPS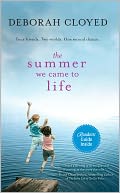 Friendships. The ultimate rollercoaster ride. I wouldn't have survived high school without my friends. And although there were times we argued and didn't speak for a full day (gasp!), It was my girlfriends I could always count on. They were the ones who helped me through those awkward stages (maybe the red glasses were a mistake!) who listened as I cried over broken hearts (where are you now, Chris M.?) and were there for me after those incidents that had me curled up in a ball and never wanting to show my face at school again (I think I'll keep those to myself!). So I loved The Summer We Came to Life by Deborah Cloyed because it's a lovely novel about lifelong friends whose bond helps them through the most difficult time of all.
Synopsis:
Every summer, Samantha Wheland joins her childhood friends—Isabel, Kendra and Mina—on a vacation, somewhere exotic and fabulous. Together with their mixed bag of parents, they've created a lifetime of memories. This year it's a beach house in Honduras. But for the first time, their clan is not complete. Mina lost her battle against cancer six months ago, and the friends she left behind are still struggling to find their way forward without her.
For Samantha, the vacation just feels wrong without Mina. Despite being surrounded by her friends—the closest thing she has to family—Mina's death has left Sam a little lost. Unsure what direction her life should take. Fearful that whatever decision she makes about her wealthy French boyfriend's surprise proposal, it'll be the wrong one.
The answers aren't in the journal Mina gave Sam before she died. Or in the messages Sam believes Mina is sending as guideposts. Before the trip ends, the bonds of friendship with her living friends, the older generation's stories of love and loss, and Sam's glimpse into a world far removed from the one in which she belongs will convince her to trust her heart. And follow it.
Another wonderful novel about friendship is Summer Rental by Mary Kay Andrews.
FIRST LOVES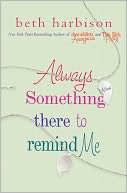 Ahh, first loves. Remember how intense they felt? How much we scared our parents when we professed our love? How we thought we could never live without them?
Always Something There to Remind Me
by Beth Harbison is the story of a woman who could get married to her current boyfriend but still wonders about her first love. Because, for some, a first love is
the
love.
Synopsis: Can you ever really know if love is true? And if it is, should you stop at anything to get it?
Two decades ago, Erin Edwards was sure she'd already found the love of her life: Nate Lawson. Her first love. The one with whom she shared everything--dreams of the future, of children, plans for forever. The one she thought she would spend the rest of her life with. Until one terrible night when Erin made a mistake Nate could not forgive and left her to mourn the relationship she could never forget or get over.
Today, Erin is contentedly involved with a phenomenal guy, maneuvering a successful and exciting career, and raising a great daughter all on her own. So why would the name "Nate Lawson" be the first thing to enter her mind when her boyfriend asks her to marry him?
In the wake of the proposal, Erin finds herself coming unraveled over the past, and the love she never forgot. The more she tries to ignore it and move on, the more it haunts her.
Always Something There to Remind Me is a story that will resonate with any woman who has ever thought of that one first love and wondered, "Where is he?" and "What if…?" Filled with Beth Harbison's trademark nostalgia humor and heart, it will transport you, and inspire you to believe in the power of first love.


Another great novel about first loves is
Dedication
by Emma McLaughlin and Nicola Krauss.
What novels take you back in time?


Permalink