Thread Options
Mark as New

Mark as Read

Bookmark

Subscribe

Email to a Friend

Memorial Day will be here in just 6 days. (Yes, I'm counting the days until my three day weekend! Woo hoo!) And I don't know about you, but I need a good LOL right about now. So whether you're heading to the beach or just planning to get some R&R at home, here are three books that will help you get your relax on!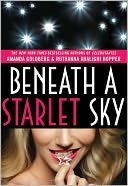 Beneath a Starlet Sky by New York Times betselling authors Amanda Goldberg & Ruthanna Khalighi Hopper is the perfect book to throw in your beach bag or bust out after the kids go to bed. They burst on the scene with the hilarious Celebutantes and now they are back delivering yet againn.
Synopsis: In BENEATH A STARLET SKY, Lola Santisi—CEO of a struggling fashion line and daughter of Hollywood royalty—is swinging between the fashion world in New York and the real world with her doctor-boyfriend in Los Angeles. Lola is trying to launch designer Julian Tennant's new dress line, and it looks like they're about to get their next big break: his wedding dresses have been chosen to feature in the top film at the Cannes Film Festival. They better make a big splash in the sunny Cannes crowds, or else…
For Kate Woods, Lola's BFF and CAA's rising star agent, Cannes is all work and no play. Having recently endured a disastrous break-up with Lola's brother Christopher, Kate is newly single, and focused solely on her clients.
The only thing worse than thinking it was a good idea for Kate to date Lola's brother, is thinking it was a good idea for Kate to put one of her most loose-cannon clients, Nic Knight, in Lola's father's movie. Among Kate's other mega star clients is Saffron Sykes whose appearance on the cover of Vogue in Julian Tennant could be the difference between Julian Tennant, Inc. weathering the economy or going bust. But when someone throws a wrench in their plans, everyone stands to lose, especially Lola. With her father and brother vying for the same prize, her mother starring in hew new reality show, and one heartbroken girlfriend about to declare motherhood, it's all on Lola to come up with the answers.
To learn more about the talented Amanda and Ruthanna, head over to Chick Lit is Not Dead where they shared their 5 Do's and a Do-Over.
The Baby Planner by Josie Brown is the LOL, completely satisfying story of a thirty-seven-year-old baby planner whose own biological clock is ticking off the charts faster than you can say designer stroller. (I could definitely relate- having my first baby, er, a little later in life.) I first fell for Josie Brown when I read her delicious novel, Secret Lives of Husbands and Wives and The Baby Planner reminded me yet again why I look forward to Josie Brown's novels with the anticipation of a kid on Christmas Eve.
Synopsis: Katie Johnson may make her living consulting with new moms on the latest greatest baby gadgets no parent should be without, or which mommy meet-ups are the most socially desirable, or whether melon truly is the new black, but the success of her marriage to her husband, Alex, depends on controlling her own urges toward motherhood.
He's adamant that they stay childless. Sure, Katie understands that he's upset over the fact that his out-of-town ex-wife rarely lets him see their ten-year-old son, Peter. But living vicariously through her anxious clients and her twin sisters' precocious children only makes Katie resent his stance more deeply.
While helping a new client—Seth Harris, a high tech entrepreneur who must raise Sadie, his newborn daughter, as a single parent after the tragic death of his wife in childbirth—maneuver the bittersweet journey from mourning husband and reticent father to loving dad, Katie's own ideals about love, marriage, and motherhood are put to the test as she learns ones very important lesson about family: How we nurture is the true nature of love.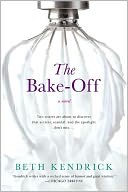 The Bake-off by Beth Kendrick is a delicious read. I first fell in love with her last year when I read her novel, Second Time Around. And I could not wait to get our hand on her latest. It's yummy fun that we highly recommend you indulge in! (It's fat free too!) Run, don't walk to your nearest bookstore and pick up a copy for your Memorial Day getaway or staycay.
Synopsis: Suburban soccer mom Amy has always wanted to stand out from the crowd. Former child prodigy Linnie just wants to fit in. The two sisters have been estranged for years, but thanks to a series of personal crises and their wily grandmother, they've teamed up to enter a national bake-off in the hopes of winning some serious cash. Armed with the top-secret recipe for Grammy's apple pie, they should be unstoppable. Sure, neither one of them has ever baked anything more complicated than brownie mix, but it's just pie-how hard could it be?
Make sure to check out Beth Kendricks many other novels including The Pre-Nup, Exes and Ohs and Nearlyweds.
What books are you reading this Memorial Day weekend?



Permalink