Thread Options
Mark as New

Mark as Read

Bookmark

Subscribe

Email to a Friend

Just after I read and watched The Men Who Stare at Goats, I found myself watching Green Zone, starring Matt Damon and directed by Paul Greengrass. I kept thinking, "This is familiar." It felt like "Jason Bourne Goes to Baghdad," but there was something more. I couldn't put my finger on it until I reached the end credits and saw, "Inspired by the book Imperial Life in the Emerald City by Rajiv Chandrasekaran."

It's interesting to see Hollywood make a comic romp of a movie and a taut thriller out of two pieces of military and political non-fiction. Funnily enough, while the comical Men Who Stare at Goats is the more serious faithful adaptation of the source text, Green Zone is probably the better adaptation, given that it produced a stronger movie that still advances its book's ideas.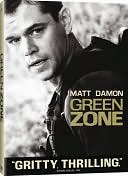 Green Zone is fairly easy to summarize. Chief Warrant Officer Roy Miller (Damon) gets exasperated at a military intelligence meeting at the closing days of the war and the beginning of the occupation. Not only is he not finding WMDs at these slam-dunk locations, his superiors send him out to find them based on the same anonymous and presumably discredited intelligence source. Miller's objections catch the ear of a veteran CIA Iraq analyst (Brendan Gleeson), who uses a bit of human intel that Miller runs across to thwart the ambitions of an administration hack (Greg Kinnear) who's indifferent to the reality on the ground.

The film features a lot of Bourne-esque fights and shaky cams, and it reaches a denouement with a very Hollywood-ized conspiracy about administration personnel relying on faked intelligence to advance war- and post-war planning aims. It's heavy handed and a little fantastical, which is disappointing, since Chandrasekaran's book shows that they could have made the same point by telling the real story.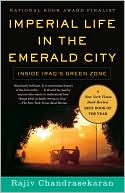 Imperial Life in the Emerald City is a galling book. Chandrasekaran is no polemicist, and he tries to rehabilitate those of any ideological stripe who did good work. Unfortunately, it can't help but sound partisan, because it's a story about how America lost the peace and the Coalition Provisional Authority bungled the restoration of the country. The people who did that were from one administration, and because they politicized the process of the peace, it's hard for the book to not sound like a condemnation of their politics.

The list of political miscues and opportunism ranges from a macro to a micro level. In Washington, high-ranking officials withhold intelligence from those initially in charge of managing the Baghdad takeover and feed it to the venal and incompetent exile Ahmed Chalabi to make him seem most prepared, while denying the realities on the ground. Chalabi is the preordained narrative, and rather than bending him or Washington policy to objective facts, facts are denied or ignored to permit the Chalabi narrative to unfold.

In Baghdad, things are worse. Placement of personnel is handed out as a political spoils system, irrespective of qualifications. Chandrasekaran makes an informed guess that perhaps 50% of CPA workers have never had a passport before coming over and thus little international experience. No matter: the interviews determining their placement ask political questions irrelevant to restoring Baghdad. Examples: "Who did you vote for in 2000?" and, "What is your stance on Roe v. Wade?" Positions often go to party loyalists as rewards for flacking and campaigning. Thus, Baghdad's national health system is taken out of the hands of a Johns Hopkins expert in medical administration who lacks sufficient conservative orthodoxy and put into the hands of a vastly underqualified career social worker who's solidly neo-conservative.

The CPA's administration represents a contemptuous lack of perspective. Whether a woman has a right to an abortion is a total irrelevancy to, say, giving millions of people a functional electrical grid. Baghdad needs its stock and commodities markets open and running again. Instead, they are handed off to a man in his mid-20s with no experience as a financial regulator. While the stock exchange sits idle, its rules are rewritten to correspond to conservative ambitions for the (lack of) regulation of the American exchange.

Indeed, Baghdad quickly becomes a kind of void in which conservative administrators try to do to Iraq what their think-tank literature ideally would like to do to America. National resources are "privatized," auctioned off to global bidders, despite international laws criminalizing an occupying power's sale of occupied territory and resources.

Given the current vogue for counter-insurgency warfare in policy papers, think tanks and the strategy of General David Petreaus, probably the most damning detail in the book centers on CPA chief Paul Bremer's "de-Baathification" of government services and the dissolution of the Iraqi army. With two pen strokes, Bremer removed everyone with hands-on administrative and public-safety experience from the rebuilding process, while giving them a need for employment that would make them easy marks for insurgents.

Two core ideas behind counter-insurgency planning are establishing a trained, independent and native national police force and making sure that people are sympathetic to their government because it provides them essential services. Bremer did away with both, without having anything viable to replace them, while incentivizing these people to supply their expertise to those working against the Americans. In short, he created two problems and no solutions while accelerating the forces that would only make those problems more severe.

The book isn't all negativity. Chandrasekaran often supplies quirky and funny details to all the strife: CPA members adopting stray cats and trying to have functional friendships; people gathering at all hours to catch sports games back home; a dearth of available women so profound that pilots on flights out of the country crack wise on the intercom, "Ladies, we are leaving Iraqi airspace. You are no longer all attractive." But too often even these little details are frustrating and dumb. Every day, the CPA cafeteria serves pork—a food that is haram, unclean, according to Muslim faith. Every day, its Muslim cooks have to prepare it for their occupiers.

Seeing Green Zone will not spoil Imperial Life in the Emerald City, nor will the latter spoil the former, but neither is what one could call uplifting. The film ends on a hopeful note, but much of what came before was violent and cynical. Chandrasekaran tries to burnish the reputation of the hard workers and the sincere non-opportunists doing their best for the Iraqis, but it's easy to see how uncommon they are. Both provide one with a smart and well-crafted experience, but neither can shake the fact that they address critical and mortal errors of recent American history.
Permalink