Thread Options
Mark as New

Mark as Read

Bookmark

Subscribe

Email to a Friend

This week David Evanier, esteemed novelist and former editor of "The Paris Review", comes a croonin' just as his new biography of Tony Bennett hits the shelves.
JD: Your book The Great Kisser was such a passionate work of fiction, how do you switch gears between novels and nonfiction?

DE: Fiction requires a lot more time and space: to worry, to accomodate uncertainty, to have panic attacks, to noodle around, to just sit there and wait until something comes. I prepare large, separate blocks of time for the fiction. Sometimes I also switch writing spaces to keep the books apart: I'll do my nonfiction at the Writers Room and my fiction at the Society Library, or vice versa, or go to the New York Public Library Reading Room. A grand and beautiful environment can help, but so can a cafeteria. For my fiction, I also like to walk across the Brooklyn Bridge and take notes as I walk.

JD: Your Tony Bennett bio is about to be released. What inspired the book and what are your strongest impressions of Mr. B since writing his tale?
DE: I've loved Tony Bennett's singing for most of my life. He always has had the warmest and most natural voice, the voice of the New York streets. When I learned that he was also a superb painter and a humanist in the Italian De Sica, Rossellini, La Guardia tradition, that he'd liberated a concentration camp and championed civil rights, I realized there was a depth to him that I wanted to explore. My strongest impressions of Mr. B is his toughness and his integrity. There's a fierce fighter behind that smiling image. For instance, he held on to the music of the American Songbook and the great composers when it was unfashionable to do so and never compromised. One story really caught my attention. The rumor was that he was fired by Columbia Records in the rock and roll years. The truth is he fired Columbia. When a new contract he couldn't accept was delivered to him, it was as thick as a phone book. He tore it in half with his bare hands. Then he went up to the office of the unsuspecting head of Columbia, Walter Dean, who thought Tony was there to accept the contract. Tony punched him in the jaw. Dean landed on the floor. Tony said "Good day" and walked out.

JD: What helps you to write when you feel like the prose is (shall we say) pouring out poorly?
DE: I know I have to just sit there and wait and it will come. I know I have to try. It helps to walk around the city, to read a great piece of writing--great work is absolutely contagious--to read a Paris Review interview with Philip Roth or August Wilson--to sit around with pals. Sometimes I go through my notes and find an answer, a way in, a scene to gt me going. Mainly, I know I have to be there for the moment the good work arrives.
JD: You used to edit at The Paris Review. How do you think the culture of lit mages changed during the Internet era?

DE: I think their impact has somewhat diminished. I don't hear excitement expressed about a new story on the internet, although many, like Per Contra, do fine work. But I don't hear excitement about the print magazines either. Something has been lost. We still have superb lit mags: Agni, Tin House, Granta, Paris Review, A Public Space, Southwest Review, Yale Review, Hanging Loose, Open City, some others. But somehow less attention is being paid, I think.

JD: What authors have influenced you the most?
DE: The past: Dickens, Dostoyevsky, Thomas Mann, Ralph Ellison, Henry Roth, Eugene O'Neill, Tennessee Williams, Tillie Olsen, Arthur Miller, Iris Owens,
Dylan Thomas, Andreyev, Hemingway, Thomas Wolfe, Ivan Bunin, Daniel Fuchs, Ignazio Silone, Richard Wright, Kay Boyle, Gogol, Saltykov-Schedrin, Goncharov, de Montherlant, Harvey Shapiro, Charles Reznikoff, Frederick Exley, Truman Capote, Chaim Grade, Isaac Bashevis Singer, Evelyn Waugh, Alfred Kazin, Vladimir Nabokov.Today: Stuart Dybek, Stephen Dixon, Kenneth Lonergan, August Wilson, Jonathan Marc Sherman, Ernest J. Gaines, James Alan MacPherson, Jennifer Belle,
Bruce Jay Friedman, Sapphire, Philip Roth, Edna O'Brien, Ben Cheever, Amanda Stern, Jane Shapiro, Annie Baker, Tom Beller, John Guare, Steven Schrader, Stephen Guirgus, Gay Talese, Gal Beckerman, Gary Giddins, Will Friedwald, David Roskies and Pete Hamill.

JD: Many thanks, David. For more on the craft and practice of writing please check out my book, Bang the Keys. And until next week I leave you with this question, what music has most influenced your writing?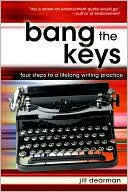 Permalink