Thread Options
Mark as New

Mark as Read

Bookmark

Subscribe

Email to a Friend

July might already be almost over, but there are still some great books yet to be released.So this month, pick up one- or all three- of these books by Kathleen Mc Cleary, Cecilia Ahern and Emily Arsenault!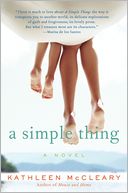 A Simple Thing
by Kathleen McCleary (July 24)
My take? A sweet story of friendship and forgiveness.
When Susannah Delaney discovers her young son is being bullied and her adolescent daughter is spinning out of control, she moves them to remote, rustic Sounder Island to live for a year. A simple island existence—with no computers or electricity and only a one-room schoolhouse—is just what her over scheduled East Coast kids need to learn what's really important in life. But the move threatens her marriage to the man she's loved since childhood, and her very sense of self.
For Betty Pavalak, who moved to Sounder to save her own troubled marriage, the island has been a haven for fifty years. But Betty also knows the guilt of living with choices made long ago and actions that cannot be undone. The unlikely friendship between Susannah and Betty ignites a journey of self-discovery for both women and brings them both home to what they love most. A Simple Thing moves beyond friendship, children, and marriages to look deeply into what it means to love and forgive—yourself.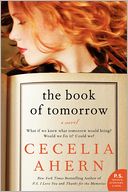 The Book of Tomorrow by Cecilia Ahern (In paperback, July 24)
My take? Loved this exciting book about seeing into the future so much in hardback, I'm excited to read it again in paperback.
What if we knew what tomorrow would bring?
Would we fix it? Could we?
Born into the lap of luxury, sixteen-year-old Tamara Goodwin has never had to look to tomorrow, until the abrupt death of her father leaves her and her mother a mountain of debt and forces them to move in with Tamara's peculiar aunt and uncle in a tiny countryside village. Lonely and bored, Tamara's only diversion is a traveling library. There she finds a large leather-bound book with a gold clasp and padlock. Intrigued, she pries the lock open, and what she finds inside takes her breath away.
Tamara sees entries written in her handwriting and dated for the next day, and when they happen exactly as recorded, she realizes she may have found the solution to her problems. But Tamara soon learns that some pages are better left unturned and that, try as she might, she can't interfere with fate.
Miss Me When I'm Gone by Emily Arsenault (July 31)
My take? Any book praised as a "honkey tonk Eat, Pray, Love" is my kind of read!
Author Gretchen Waters made a name for herself with her bestseller Tammyland—a memoir about her divorce and her admiration for country music icons Tammy Wynette, Loretta Lynn, and Dolly Parton that was praised as a "honky-tonk Eat, Pray, Love." But her writing career is cut abruptly short when she dies from a fall down a set of stone library steps. It is a tragic accident and no one suspects foul play, certainly not Gretchen's best friend from college, Jamie, who's been named the late author's literary executor.
But there's an unfinished manuscript Gretchen left behind that is much darker than Tammyland: a book ostensibly about male country musicians yet centered on a murder in Gretchen's family that haunted her childhood. In its pages, Gretchen seems to be speaking to Jamie from beyond the grave—suggesting her death was no accident . . . and that Jamie must piece together the story someone would kill to keep untold.
Happy reading!
Permalink