Thread Options
Mark as New

Mark as Read

Bookmark

Subscribe

Email to a Friend

This week Sharyn Wolf spoke with Writer to Writer about the long and winding road that led her to write and publish "Love Shrinks", a most unusual book about divorce.

JD: Could you tell us a little about the conception of Love Shrinks, and what challenges you faced in writing it?'
Love Shrinks

SW: I would never have decided to write a book about my failed marriage. Even the idea hurts too much. I"m a psychotherapist, and I set out to write a book about my patients and the ways I had been useful or useless to them. But, in every chapter I wrote, my marriage popped through. When I had finished the book about my patients, I showed it to a few treasured readers—the kind who will tell you what they really think. And, they all really thought the same thing; a book about my divorce needed to focus more heavily on my marriage.
"The story of your marriage is more interesting…after all…a marriage counselor who can't keep her own marriage together has a certain panache, dontcha think?"
I didn't like it, but I knew they were right.
And so, it was like sitting on nails to go back and reconstruct and then deconstruct my sad marriage and make it the focus of the chapters—rewriting, revising, coming up with more stories.
The challenge for me was reliving those many painful moments, not to mention writing a book I hadn't planned to write.

JD: You have a background as a jazz singer; how much do you tap into your performer self when you write? Do you improvise a lot?
SW: I work with time and rhythm. That is in my nature. For me, it is about the 'feel' of the work, the flow, the meter. I was a poet for many years, and jazz influenced my poetry. Now, poetry influences my prose. But, the performer in me does help when I have to give a reading. Although, when you sing you have a band around you. When you read, you're all alone up there.
JD: How do your patients feel about you having such a public persona?
SW: My patients are mainly interested in their problems and not my problems--luckily. Once one of them saw me on Oprah by chance and reported that he didn't like it at all. Some of my patients came into my practice as a result of reading a book I wrote, but this will be different because those were self-help books and this is a memoir. I was worried about how my patients might feel, and I guess I'll find out.
But, in general, for them, I don't have a public persona. We don't talk about my writing (and, in the past, we didn't talk about my television appearances), and they don't see me that way. Also, my cases are so disguised in my books that none of my patients will see themselves there.

JD: How did your ex respond to the book?
SW: After much thought and back and forth...well...I haven't told him. Part of the big problem in our marriage was that he never read anything, not one word, that I ever wrote, so I don't expect him to read this.
If he does, I know he will feel hurt that I have exposed so much of our lives, but you can see from reading Love Shrinks that I don't make him a bad guy. That is one of the things I like best about the book--I spend a lot of time talking about why I stayed so long--the many wonderful things about him that made me stick like glue.

JD: What writers have influenced you the most?
SW: Oh, that's so tough. I have a weird habit of reading one book by every author. I rarely seem to read the body of their work. That being said, in fiction I love Walker Percy, Raymond Carver, Kazuo Ishiguro. But I tend to be more influenced in my writing by poets such as William Matthews, Bill Knott, Billy Collins and Colette Inez.
Form, pace, rhythm is what attracts me---what blows me away.

JD: What are you working on next?
SW: I'm all tangled up in a detective novel, and, then, another memoir.
JD: Thanks so much, Sharyn. For more on the craft of writing please go to: www.bangthekeys.com or check out my book,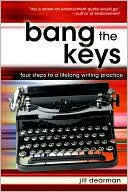 Bang the Keys . And until next week I leave you with this: what's the most difficult thing you've had to write about?
Permalink