Thread Options
Mark as New

Mark as Read

Bookmark

Subscribe

Email to a Friend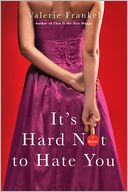 It's Hard Not to Hate You by Valerie Frankel
is one of the most refreshingly honest and thoroughly entertaining memoirs I've read in a while. As a self-proclaimed
memoir whore
, my expectations of authors who write about their real lives are always high.
In her latest memoir about embracing your Inner Hater, Frankel delivers and then some. (Anyone who not only says it's okay to champion your Evil Twin, but to feel and act on toxic emotions- in my case bitchiness- is my hero!)
So I'm beyond thrilled that she agreed to be interviewed and give us the scoop on everything from how she came up with the title of her book to her next collaboration with Snooki. (Yes,
that
Snooki!
)
But first, here's a tease of what It's Hard Not to Hate You is all about: In the midst of a health and career crisis, Valerie uncorks years of pent up rage, and discovers you don't have to be happy to be happy. You don't have to love everyone else to like yourself. And that your Bitchy Twin might just be your funniest, most valuable and honest ally.
"The hate in you has got to come out." After being advised to reduce stress by her doctor, humorist Valerie Frankel realized the biggest source of pressure in her life was maintaining an unflappable easing-going persona. After years of glossing over the negative, Frankel goes on a mission of emotional honesty, vowing to let herself feel and express all the toxic emotions she'd long suppressed or denied: jealousy, rage, greed, envy, impatience, regret. Frankel reveals her personal History of Hate, from mean girls in junior high, selfish boyfriends in her twenties and old professional rivals. Hate stomps through her current life, too, with snobby neighbors, rude cell phone talkers, scary doctors and helicopter moms. Regarding her husband, she asks, "How Do I Hate You? Let Me Count the Ways." (FYI: There are three.)
By the end of her authentic emotional experience, Frankel concludes that toxic emotions are actually good for you.
I recommend buying this book asap. In fact, I'll make it easy for you, just click HERE. But don't just take my word for it, Valerie Frankel will sell you on it without even trying.
And now, without further adieu, my interview with the incredibly talented Valerie Frankel:
1. What is your favorite thing about your book?
The response from readers. I really put myself out there with It's Hard Not to Hate You. I was worried how outing my professional jealousy, anger, impatience, spitefulness—all the emotions I'd tried to hide for years—would be perceived. I didn't want to come off as a raving bitch for wishing slow cashiers' heads would burst into flames, or loathing insufferable brats and their indulgent parents, for examples. Fortunately, the intended humor and honesty in IHNTHY seems to be coming through. A lot of readers relate to the hate. That said, some find it hard not to hate me. I kind of love that, too. It means the emotional truth of the book is striking a nerve.
2. What was your highest point while writing your book? Your lowest?
The high point: Getting to the end. The book was written over the course of a rough year. I was diagnosed with cancer, and learned my family has a genetic mutation that all but guarantees future cancers. On top of that, due to the recession, my career was rocked to the foundation. The turmoil made it impossible to gloss over the negative. I could no longer suppress legitimate fear and anger. By the time I got to the end of the year and the memoir, I'd been through the ringer, and had come out the other side emotionally unburdened, more-or-less intact, happier and wiser.
The low point: In the middle of the book, I described a meeting with a genetic oncologist who advised me to have drastic prophylactic surgeries, including a hysterectomy and the removal of my entire colon. This was a uniquely horrific experience. I fell into a depression, which I didn't try to thwart or ignore, having vowed to open up to whatever emotion came knocking. Writing about that awful day and the blue period afterwards was painful but cathartic. I was relieved when my mood turned, and a new chapter began.
3. How did you come up with the title of your book?
The title speaks to the ambivalence about allowing and expressing negative emotions. The phrase "it's hard not to hate . . ." kept coming up again and again as I wrote chapters about jerkoff ex-boyfriends, my husband's frustrating quirks, snobby neighbors, difficult friendships. It was the clear theme of the memoir, so my editor and I made it the title.
4. If you could see one famous person (living or dead) reading your book, who would it be?
I'd squeal with ridiculous glee if Kathy Griffin read my book. Her humor and honesty are an inspiration. I think she'd totally get what I was going for in IHNTHY. Just the thought of Kathy reading it, laughing, nodding along . . . oh, God. I think I just peed a little.
5. What's the best compliment you've received about your book?
The words that pop up often in reviews are "hilarious," "touching," "honest" and "insightful." I couldn't write a better blurb for myself, except, "Frankel is one red hot sexy mama." Sadly, no one has said that yet.
6. What is the last book you read? What is the next book you want to read?
I'm currently reading The List by J.A. Konrath and Jack Kilborn. Kornath is a popular, pioneering e-book originals author, and I wanted to see what all the fuss was about. It's a hardboiled cloning thriller in the tradition of Ira Levin's The Boys from Brazil . Very fun, fast and sharp. Before that, I read Traci Foust's Nowhere Near Normal, a memoir about her childhood OCD and severe anxiety disorder. Gripping, sad, tragic, but still funny and uplifting.
The next book I want to read: Jane Lynch is another funny lady hero of mine. I've heard good things about her new memoir, Happy Accidents , so I'll nook that next.
7. What is the #1 thing you want people to feel after they've read your book?
I want readers to feel great about their hate! It's been a trend in our culture to aspire to happiness above emotional honesty, as if dark thoughts and emotions will come to get us in our sleep. The irony is, you can't be happy unless you are honest about being authentically, occasionally, seriously pissed off. If readers were inspired by IHNTHY to embrace their Evil Twin, I'd be thrilled.
8. Describe your book in three words.
"Book club gold."
9. Nook or book?
Nook! I own a Nook and a Kindle, and I cherish both. As a reader, I love the convenience of buying e-books, the lower prices, the handy, lightweight devices, the benefit to the environment and having a large pocket library. As an author, I welcome any technology that makes it fun and easy to get books into readers' hands.
10. Are you working on another book? If so, any hints?
I'm putting the finishing touches on two novels. Four of a Kind, about working moms in Brooklyn Heights who start a monthly poker game, comes out in March 2012. Gorilla Beach is my second collaboration with its celebrity author, a certain tan, pint-sized, brunette, poufed TV reality star. It will be released to the wild in May 2012.
To find out more about Valerie Frankel and the many other books she's written including, Thin Is the New Happy, vist her website.
Permalink