Thread Options
Mark as New

Mark as Read

Bookmark

Subscribe

Email to a Friend
I'm always giddy with excitement when an author I adore writes another book.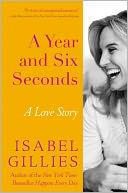 So when I found out that the New York Times bestselling author of
Happens Every Day
, Isabel Gillies, had written
A Year and Six Seconds: A Love Story
, I was like a kid on Christmas, jumping up and down with excitement. And without a moment of hesitation I not only purchased the memoir about moving on after her husband left her for another woman, but I went so far as to ask Isabel Gillies if she'd be so kind as to be interviewed by lil ol' me. She said yes! More on that in a minute. But first, let me tell you about this beautifully written memoir that had me laughing and crying along side Gillies. (The way she captured her little boys' emotion as their father left after his first weekend visit gave me the chills and gives me the chills even as I write this.)
Synopsis of
A Year and Six Seconds
:
When our story opens
, it's a dark and slushy winter in New York City, where Isabel is arriving by airplane from Ohio, two toddlers in tow, to move in with her parents; her husband has left her for another woman.
In subsequent scene after hilarious scene, Isabel shares her valiant, misguided, and bumbling attempts to understand her own part in the disintegration of her marriage and to feel strong and loveable. And, one by one, she begins to cross items off a staggering single mom to-do list that includes: change last name, get bank account, get work, have breakdowns only in front of best friend and not in front of children, find rare preschool slot for son midyear in Manhattan, get along with three generations of family in tight quarters, find a man who can plant one great and romantic kiss, accept self, accept love, be happy.
She cries, she dates, she (and her mother and father and children) get the flu, and then, just when she least expects it, Isabel falls in love.
With humility and a refreshing sense of humor, Isabel stumbles many times but also laughs, forgives, discovers new treasures from old friends, marries again, and more than that, finds good love itself within and around her.
You don't need to have read her first memoir to enjoy this one. (Although I HIGHLY, HIGHLY recommend you do because it's raw, emotional, honest and unlike anything I've ever read before). So what are you waiting for? Get yourself a copy of A Year and Six Seconds right now! And after you've read this wonderful interview you're going to want to read the book even more.
And now, without further adieu, here's the lovely and talented Isabel Gillies!
Lisa Steinke: What is your favorite thing about your book?
Isabel Gillies: My favorite thing about the book is everyone in it. While writing I was reminded everyday how awesome people are, sort of in general. Everyone from my mother to the lady that helped me at the bank are so interesting and multifaceted – and good – even in less than perfect circumstances. I never have been a fan of black or white and what I have learned while writing these books is that everyone is a shade of grey and that is fascinating to me.
LS: What was your highest point while writing your book? Your lowest?
IG: My highest points while writing this book or any other are those "zone moments". Those times when you are writing (my husband says he used to get them taking math tests) when it's like something else has taken over. Your not stuck, or looking for words, or wondering if you are thirsty. You are just writing from someplace deep down inside your self and you are in a zone. That is awesome. The lowest point was one night at around 3am when I was feeling awful and tearing myself apart for writing about people in my life other than myself. It couldn't be easy to have someone write about you and have it be published and sometimes I find myself in real crisis about it, even though I feel that I am writing from a positive place.
LS: How did you come up with the title for your book?
IG: I had a hard time with the title. For a long time it was called Good Love, but then I had to change it. I though of it one day when my friend told me there was a study that said people fall in love in six seconds. I thought, "Yeah, I did that!" And then about 20 minutes later I had the title.
LS: If you could see one famous person (living or dead) reading your book, who would it be?
IG: Hands down Nora Ephron.
LS: What is the last book you read? What is the next book you want to read?
IG: I just finished Lily Tuck's I Married You For Happiness. Great title right? It's a thoughtful book. And next, once I get through all the fall issue food magazines, will be Catherine The Great by Robert Massie.
LS: What's the best compliment you've received about your book?
IG: Well it's always amazing when I hear that it's helped someone – and that's really the point, but my husband's friend who is married with four kids said that the book taught him something about what being a single mother was like, he said sheepishly that he had never considered that before and now he feels like he learned something. That was cool.
LS: Describe your book in three words.
IG: Oh shucks; Honest, fast paced and fun?
LS: Nook or book?
IG: Book
LS: Are you working on another book? If so, any hints?
IG: I am writing a YA novel about first love. It's called Beside Me, it takes place in New York City and it's really fun to write.
Can't wait to read it, Isabel! Thanks so much.
To learn more about Isabel Gillies, visit her website.
Permalink