Thread Options
Mark as New

Mark as Read

Bookmark

Subscribe

Email to a Friend

At the Academy Awards, actors and actresses vie for the little gold statuette known as Oscar. But not at the Screen Actors Guild Awards. There are no actresses there! What's going on?
At the 17th annual SAG Awards on January 30, 2011, Colin Firth won the statue called "The Actor" for Outstanding Performance by a Male Actor in a Leading Role for his work as King George VI in King's Speech ; Natalie Portman was honored for Outstanding Performance by a Female Actor in a Leading Role for her portrayal of Nina Sayers in
Black Swan
. Male and female actors--a novelty or the wave of the future?
Like it or not, the English language indicates gender, with different nouns and pronouns that refer to men and women, boys and girls. English nouns themselves do not have gender, as they do in Romance languages derived from Latin, such as French, Spanish, and Italian, but English nouns do reference men or women specifically.
Men are actors, women are actresses. The policeman walks a beat; Angie Dickinson was Police Woman (TV series, 1974-78). For decades, we waited for the mailman or else asked, "Please Mr. Postman"; as late as the 1980s, on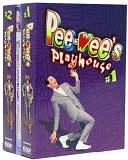 Pee Wee's Playhouse, we waited for Reba the Mail Lady.
Pronouns, of course, have long been a source of trouble, since the 3rd person singular pronouns for people (he and she, him and her) all indicate gender, while the plural ones do not (they, them). That issue has popped up on this blog before, right here: "Sheesh, and the Search for the Gender-Neutral Pronoun."
Specifically, when we discuss the issue of actors and actresses we are discussing the issue of gendered nouns, and English has a lot of them.
As couture moved toward more equality for men and women at a rapidly accelerating rate in the 1960s and '70s, language users, textbook writers, feminists, and journalists, among others, began to concern themselves with words for jobs, careers, and functions that explicitly assumed a man or a woman would be performing them. Suffixes such as -ette and -ess suddenly seemed diminutive, in accord with women's perceived lesser status in society. Stewardesses or stewards? Waiters or waitresses? New coinages sprang up, some useful, such as mail carrier or postal worker, others ridiculous--does anyone remember "waitron" for restaurant servers?
Gradually, English has moved away from gendered nouns and toward gender-neutral language. TV shows still may be called The Bachelorette, but it is rare to see words and expressions such as chairman, mailman, congressman, comedienne, executrix, weatherman, and fireman and common to read chairperson, letter carrier, congressperson, comedian, executor, weather forecaster, and firefighter.
Which do you prefer: Actors and actresses or male and female actors? And what do you think will win Best Picture?
The Kids Are All Right

Toy Story 3

The Social Network

The King's Speech

Inception

The Fighter

Black Swan

127 Hours

True Grit

Winter's Bone
Ellen Scordato has 25 years' book publishing experience as an editor, copy editor, proofreader, and managing editor. She's now a partner in The Stonesong Press, a nonfiction book producer and agency. In addition to her work at Stonesong, Ellen has taught grammar, punctuation, and style at the New School for more than 12 years in the English Language Studies department and taught English as a Second Language at Cabrini Immigrant Services.
Permalink