Thread Options
Mark as New

Mark as Read

Bookmark

Subscribe

Email to a Friend

Lauren Oliver (author of the best-selling Liesl & Po and Before I Fall) has another hit on her hands with her new teen dystopian Delirium series. First came Delirium (Delirium Series #1) (January 2011),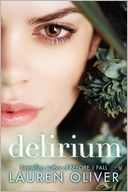 then Pandemonium (Delirium Series #2) (February 2012), and soon Requiem (March 2013).
Her tale of a society in which love is surgically removed and amor delirium nervosa is a deadly disease is compelling, especially to teens, but it was the use of Latin in the name of the malady and the titles that caught my eye. In these futuristic books, how much fun to see a reflection of some ancient attitudes toward love, and how enjoyable to look at the words Oliver chooses.
I tore thru Delirium in record time. The story is simple enough -- doomed teen love is a time-tested plot (Romeo & Juliet, anyone?) -- and Oliver's characters and her considerable abilities in creating a dystopian Portland, Maine, kept me fascinated.
Not to mention the attraction of all that Latin! The name of the "disease" that the heroine, Lena, both fears and longs for is amor deliria nervosa, variously translated on the web as a Portuguese phrase meaning "love went into raptures nervous" and "love delirious nervous." I don't know Portuguese, and I'm eager to hear from any reader who does, but when I saw the phrase, its Latin origins leaped immediately to mind. "Amor" is love, "deliria" is an English plural of "delirium," or madness, and "nervosa" is a Latinate word used by medical men in the 19th century to append to a variety of disorders to indicate their source was in the mind or emotions--such as anorexia.
The idea that love is a kind of madness has long, deep roots in our culture. For the ancient Greeks, erotic love was very often defined and described as a kind of mania, often visited upon a mortal by the gods. Eros was immune to reason, caused suffering and disorder, and generally made the affected mortal miserable, leading to all kinds of trouble, sorrow, and often tragedy. The trope persisted throughout European literature and into our own.
I was happy to see its current incarnation in Oliver's book. Even the titles hearken back to classicizing Greek and Latin coinages: Pandemonium comes from Milton's Paradise Lost of the 1660s; he made up the word from the Greek prefix "pan" (all) and "daemonium" (lesser evil spirit). Requiem means "rest" and is the first word of the Roman Catholic Latin mass for the dead; it has come to by synonymous with the mass itself.
Do today's teens respond to the resonance of these words? So few teens learn Latin and Greek, except perhaps in bits and pieces as an aid to vocabulary building, mainly for standardized tests. But that is probably enough. The flavor and savor of ancient, classical, mad, mad love evoked by the words comes through the ages, eternally afflicting teens--and adults.
Want to keep up with my reviews and all of Barnes & Noble's exclusive reviews, author interviews, videos, promotions, and more? Please follow us on Twitter: @BNBuzz!
Ellen Scordato has 25 years' book publishing experience as an editor, copy editor, proofreader, and managing editor. She's now a partner in The Stonesong Press, a nonfiction book producer and agency. In addition to her work at Stonesong, Ellen has taught grammar, punctuation, and style at the New School for more than 12 years in the English Language Studies department and taught English as a Second Language at Cabrini Immigrant Services and the College of Mount Saint Vincent Language Institute.
Permalink