Thread Options
Mark as New

Mark as Read

Bookmark

Subscribe

Email to a Friend
New York Knicks point guard Jeremy Lin is sensational. This Harvard grad has electrified the NBA not only because of his benchwarmer-to-superstar tale, his fabulous play, and his Ivy League degree but because of his ethnicity: Both of Lin's parents emigrated from Taiwan, and he's the first American-born player in the NBA of Asian background. What a story! What headlines! What puns! And what gaffes! What can we learn about word choice, homophones, homonyms, and racial sensitivity from sports--and sportswriting?
Lin's name has led to a multitude of rather awful punlike coinages: Linsanity, Linning, Linsane, and more. Lin's ethnic background has generated some truly terrible gaffes, like those from an ESPN Online headline, an ESPN on-air anchor, and a Knicks radio announcer who all used the phrase "chink in the armor." Of course, while that word is an old and inexusable racial slur referring to Asians, the phrase itself simply refers to a crack or crevice or small opening through which an attacker can penetrate--it's a catchphrase, a cliché.
The two words, the slur and the word in the phrase, have different meanings but are the same word. Technically, they are homonyms, like "peer" (a noble in Great Britain) and "peer" (to look at), or "rose" (past tense of the verb rise) and "rose" (a flower). For obvious reasons, the clichéd catchphrase about cracks in a knight's armor should never be used while discussing anyone of Asian descent.
ESPN fired one user and suspended another. Everyone is now a little more aware of how context is king, especially when using homonyms and homophones (sound-alike-spelled-differently words, like "pear" and "pare").

Sports can mirror society, but sometimes it's like a funhouse mirror: a little distorted. The balance of socioeconomic background and racial diversity in the USA isn't reflected in our sports leagues: Some backgrounds and races are overrepresented in certain sports and underrepresented in others. Sometimes that's because of a whole complex panorama of societal and cultural causes and conditions. Sometimes it's just prejudice.
In the 1940s, when Major League Baseball was racially segregated, Branch Rickey stood up to the prejudice and wanted to integrate his all-white team. In 1947, he brought Jackie Robinson onboard as a Brooklyn Dodger and ignited a firestorm of criticism, praise, soul searching, and profound change around the country. One of America's great newspaper legends, Jimmy Breslin, produced a wonderful book on the subject just last year.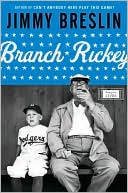 Breslin is among the great American vernacular storytellers, and his portrait of
Branch Rickey is well suited to be part of the Penguin Lives series of short, incisive biographies. The book clocks in at a brisk 160 pages, and Breslin brings to life not only the man but also the times, when African Americans were called Negros, were often barred from voting, and lived under segregation in the South. They were forced by both custom and law to use different bathrooms, swimming pools, hotels, restaurants, and even building entrances from white Americans. Major League Baseball and the Negro Leagues existed as two separate entities, and players did not cross the color barrier. No black American could play on a Major League Baseball team with a white American.
That kind of prejudice and segregation seems mind-boggling today, but it took Branch Rickey, Jackie Robinson, and a lot of quiet courage and physical bravery to change the situation. What a long way we've come.
And as the comments and headlines about Jeremy Lin show, the journey isn't over yet.
Want to keep up with my reviews and all of Barnes & Noble's exclusive reviews, author interviews, videos, promotions, and more? Please follow us on Twitter: @BNBuzz!
Ellen Scordato has 25 years' book publishing experience as an editor, copy editor, proofreader, and managing editor. She's now a partner in The Stonesong Press, a nonfiction book producer and agency. In addition to her work at Stonesong, Ellen has taught grammar, punctuation, and style at the New School for more than 12 years in the English Language Studies department and taught English as a Second Language at Cabrini Immigrant Services and the College of Mount Saint Vincent Language Institute.

Permalink