Thread Options
Mark as New

Mark as Read

Bookmark

Subscribe

Email to a Friend

Novelist Michael Sledge brings a fictional Elizabeth Bishop to life on the pages of The More I Owe You. Below, my interview with the living, breathing author!
Jill Dearman: When did you first discover Elizabeth Bishop and what was the genesis of your novel, The More I Owe You?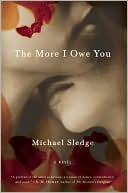 Michael Sledge: Though I'd long been familiar with her writing, both poems and prose, reading her collected letters when they were first published was a decisive experience. She had lived an extremely private life, and it was a revelation to learn about her years in Brazil and about her love for Lota. I too fell in love with these women and was profoundly moved by their story.

Also, as I came to know more about Elizabeth, I found her to be a compelling, complex character. Apart from the happiness she shared with Lota, she had an extraordinarily difficult life—was orphaned at a very early age, battled physical illness and alcoholism—yet she not only kept chugging along, she produced these beautiful works of art. And she managed to maintain an incredible sense of humor and humility throughout, even if she wasn't always easy to be around. It was this story that over time took on its own life in my imagination—until it felt somehow inevitable that I would explore it in fiction.

JD: What is your day-to-day writing practice like?

MS: I live most of the year in rural Mexico, and my days get going pretty early. First, I take my burros out of their stall so they can graze outside. Then I pump some water from the well to our cistern. Then I usually work on the restoration of our house, which is a three hundred-year-old ex-hacienda. There's usually a farmer or two passing by who I chat with about the growing season or the town festival or the ghosts that are rumored to preside over my property. I'm not sure when, during all that, I actually get a chance to sit down and write, but I do manage to fit it in somewhere, and all of these experiences are so rich they definitely feed my writing.

JD: Brazil itself is a delicious character in your book. What's your experience with the country been like? And did you immerse yourself in any Brazil-lit—Clarice Lispector perhaps?—while writing your novel?

MS: Research for this novel was a great luxury because it took me to Brazil for several months. And Brazil! There has got to be more natural and human beauty per square inch in that country than anywhere else in the world. I loved it, and I loved immersing myself in the world of Brazilian arts and architecture that were so important to Elizabeth and Lota. For the book, I wanted to arrive there as Elizabeth had, somewhat clueless and not speaking the language, and stumble around, just experiencing the amazing sights and sounds. Like her, I had some friends there, so I wasn't completely on my own.

Absolutely, I read everything I could get my hands on—by and about Elizabeth Bishop, about Brazil and Brazilian modernism during that era. I tried to read as much Brazilian literature as possible—Clarice Lispector included, who was a friend of Elizabeth's and was translated by her—though unfortunately not a lot of it is available in English. Mostly, though, I immersed myself in her letters, which are a continual delight, and it was there I think that I was able to find her voice, to really begin to inhabit her.

JD: Tell us about Oax-i-fornia, the arts studio in Mexico you cofounded.

MS: Oax-i-fornia is a project through the California College of the Arts in San Francisco that my partner Raul Cabra established and that he and I run every summer. We bring about 15 arts students to Oaxaca where they collaborate with a number of local craftspeople—weavers, ceramicists, piñata and fireworks makers, all kinds of artisans—in an intensive experimental workshop. It's an amazing experience to see relationships and trust build between the students and the artisans, who often come from very remote towns, through creativity and making. They always end up surprising each other and creating, together, really beautiful pieces.

My experiences in Mexico were essential to writing about Elizabeth Bishop in Brazil. Not so much that I used specific details, but I do understand the experience of being completely alien in a different land, of encountering ways of being that are beyond your understanding but that you nevertheless launch yourself toward. That is what it is like to live in another culture, I think, and to love another place. I also think it is like the experience of loving another person, whoever that person may be. We are all strangers to each other, just in different ways.

JD: What books have had the greatest influence on you?

MS: My love for 19th century English women writers is infinite. I am completely grounded in that tradition, as old-fashioned as it may seem. It's in that fiction that I first saw expressed, most movingly and meaningfully, the struggles of an individual psychology in the context of larger family and social structures—all those women characters trying to do the best thing for others while holding out these quiet, sometimes desperate hopes for some personal happiness. Maybe that's why I was so attracted to Elizabeth Bishop and why her story resounded so strongly for me.

Lately too I have been in awe of some of the contemporary fiction that is being written. I just finished Daniyal Mueenuddin's In Other Rooms, Other Wonders, and its beauty and control left me devastated. To be devastated by beauty—what more could you ask for?


JD: Indeed! For more about The More I Owe You and Michael Sledge visit http://www.michaelhsledge.com.
For more on the craft of writing, pick up my guide, Bang the Keys or check out the site: http://www.bangthekeys.com.
Until next time I leave you with the question...what poet has influenced (or haunted!) you the most?
Permalink