Thread Options
Mark as New

Mark as Read

Bookmark

Subscribe

Email to a Friend

For rap fans and cultural afficionados, Adam Bradley and Andrew DuBois have put together "The Anthology of Rap." Below, my interview with the editors.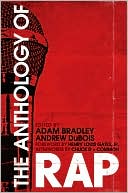 JD: What was the initial inspiration for The Anthology of Rap?_

AB: The inspiration was Rakim. De La Soul. A Tribe Called Quest. MC Lyte. Souls of Mischief. Outkast. Lauryn Hill. Common. The inspiration was our love of hip hop. For me, it was also about understanding my own limitations: I can't rap. I can't DJ. I can't breakdance. I can't do graffiti. (I know—I've tried them all!) But the one thing I can bring to hip hop is my training as a literary scholar and my skills as a writer. The Anthology is a way of giving something back to the culture that's given so much to me.

AD: I second those emotions. We have some skills to bring to the table, modest as they are compared to the artists we're dealing with. So why hide them under a bushel? To tell the truth, it seemed necessary. There just wasn't a good book of great lyrics that gives you some history and some help, but mainly lets the artists do the talking through their art. So it was a worthwhile thing to try to do.

JD: How did you two work together to bring it to life?_

AB: Andrew and I have been dreaming of a book like this for more than a decade, ever since we were both grad students at Harvard. The wonderful thing for me about our collaboration is that we have complementary interests. Andrew loves the old school and I love the new. He's always telling me about the latest vinyl he uncovered at some used record store and I'm always putting him on to new artists. Even though we live quite a distance apart—in different countries, as a matter of fact—I can say that this has been a true collaboration. I know it shows through in the finished product.

AD: That's for sure. Sometimes we had to hole up and woodshed, sometimes we were hashing it out. Discussions, drafts, dead-ends, e-mails, edits, elation—lots of listening to lyrics, lots of things to think about.

JD: What was your editing process like? How did you decide which artists would get special attention?

AD: Well, you've got to include songs a reasonable rap lover would expect, but without being predictable and boring. There's gotta be a surprise factor to sustain people's interest, but it has to fulfill their expectations at the same time. What can you say, it's a paradox. We also wanted to be comprehensive without being bloated. But, once we decided on our chronological parameters (which took awhile), we initially just went with a wish list, without worrying too much about the size of the book, transcription issues, permissions problems—that is, we were dreaming!

AB: The most difficult part of putting together this book was cutting lyrics. Early on, we decided that we couldn't go it alone so we gathered an amazing advisory board and solicited recommendations on an initial list of lyrics. The list more than doubled to something like 1,000 songs! So then we started cutting. The first 500 cuts were relatively painless, but cutting from 500 to the 292 in the published book? Brutal. Throughout the process we were driven by a set of criteria—historical importance, poetic merit, and so forth—but we were also guided by the knowledge that whatever lyrics we chose, we'd inevitably be leaving important lyrics out. As it is, we stretched the limits of what we could fit into a single volume.

JD: Being from Queens (my mom grew up in Hollis), I have particular affection for those early rappers -- what similarities do you see between the rap of those days to where rap is today?

AB: As much as rap is all about the new, it stays true to tradition, too. Since rap's birth, it's been all about moving the crowd. Whether it's Run-DMC back in '83 rocking a show in Hollis before their first album dropped or Kanye on stage last month at the VMAs, rap is about that feeling, that pulse of energy. Of course, when it comes to the technical aspects of rhyming—flow, figures of speech, rhyme patterns, and so forth—rap's expressive palate has expanded dramatically over the years, but the essence of its energy remains consistent.

AD: One thing that's also the same is that there are still people whose story is always just starting. There's somebody right now listening to rap whose Hollis, Queens is going to be Huntsville, Alabama, or Scarborough, Ontario. Wherever you are. Hip-hop is always connected in that way—it's inter-generational, cross-regional. But it's also very particular. It's got a history, an aesthetic. Rap's a deep art.

JD: What are your next writing projects?

AD: I feel compelled to write about the fine moral distinctions of Marianne Moore.

AB: I have several things in the works. I'm writing a cultural history of the Afro. Andrew and I are also editing a classroom edition of the Anthology that will include learning modules, supplementary essays, and other materials that will help educators at all levels bring rap into the classroom.
Thanks to Adam and Andrew and until next week aI leave you all with this question: how has music infused your writing? For more on the craft of writing please check out my book, Bang the Keys.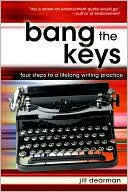 Bang the Keys And these are the breaks ...
Permalink