Thread Options
Mark as New

Mark as Read

Bookmark

Subscribe

Email to a Friend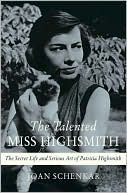 The theme of doubling appears in much of Highsmith's work and life, and biographer Joan Schenkar uses this theme to great effect in her smart, original new book, The Talented Miss Highsmith. Below my interview with the author.
JD: Patricia Highsmith is my favorite writer; "The Talented Ripley," my favorite book. And I am far from alone. What is it about Highsmith that provokes such intense passion from her readers?
JS: "Intense passion" is the right locution for both Highsmith's mindset and the feelings she draws from her readers. Readers can sense that she is a writer who has gone to the ends of her nerves to bring back the news for her novels. Everything she did in life with her emotions -- substituting one emotion for another, confusing them, exploring them, transgressing them, betraying them -- can be found, slyly disguised, in her work. So it's no surprise that her work has created an intense fan base. It's useful, too, to remember that the word "fan" is a contraction of the word "fanatic."

JD: How did "The Talented Miss Highsmith" come to be and how is it different from other books about Highsmith?

JS: I researched, interviewed for, thought about, and wrote, TMH steadily over a period of nearly eight years. Finding a way to represent Patricia Highsmith in all her glories and miseries was the most difficult work I've ever done. In order to express the extremities of Highsmith's life and work, I had to create a new form for biography and a new voice with which to narrate that form. In addition, I was given access to materials no one else knew even existed. And that answers the second part of your question, too: because of the way the book is organzed, and because of the way I wrote it, TMH creates an experience of Highsmith's life and work which has never before been seen.

JD: The inclusion of various charts and maps was a lovely touch. How did you go about finding and arranging this material?

JS: The maps and charts had been drawn up by Highsmith herself and were in her archives in Switzerland. Others, I found myself. The map and appendix entitled "Patricia Highsmith's New York" is something I created as another way of understanding the correlations between Highsmith's life and her work. The map shows the places in New York that were important to Highsmith's life, then correlates them with the locations she uses in her work. That's how I was able to show that she tended to murder her victims in fiction at addresses where she made love in life.

JD: I recall seeing a British (?) documentary at NYC's Museum of Modern Art -- maybe ten years ago. That was the first time I heard of PH writing "scenarios" for comic books. What do you think PH would think of all the respect being paid to graphic novelists these days?

JS: That would have been a French documentary; the British documentary, made about 5 years ago, was so inaccurate it was removed from circulation. Before I uncovered Highsmith's career as the only female scriptwriter during the Golden Age of American Comics, no one -- including previous biographers -- knew that she'd worked for seven years writing comics.They all took her word for it that she'd had a comics career of "a few months." Highsmith thoroughly disapproved of the comics, was ashamed of working in the genre, and kept the extent of her comics career secret. But, as she was a visual woman with a graphic sense of humor who painted, sketched, drew, and cartooned all her life, I expect she would have taken some pleasure in graphic novels herself. She has some unpublished manuscipts that would make wonderful graphic novels.

JD: What was your writing practice like in creating this book, and what are you working on next?
JS: There is only one practice possible when writing a book like TMH -- and that is to work all the time. That's just what I did. You'll know what I'm working on next about 6 months before you see it in your local bookstore.And it's going to be just as interesting as TMH.
Your readers are intrigued already! For more on Joan Schenkar, dark and light, please visit her website, http://joanschenkar.com.
And for more on the craft of writing stop by http://www.bangthekeys.com or pick up my lastest book, Bang the Keys.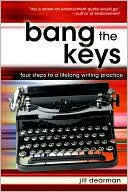 And before we say goodbye, I leave you with this QUESTION:
Who do you see as your writerly double or alter-ego?
Permalink