Thread Options
Mark as New

Mark as Read

Bookmark

Subscribe

Email to a Friend

In the past year, we've introduced you to Open Road Integrated Media, the digital publisher traveling far and wide to bring you the best in ebooks and behind-the-scenes author content! In the first of our ongoing guest blog series, "On the Road with Open Road," we traveled to Pat Conroy's house. Soon after, we ventured on to take a look at the John Gardner Papers, the Boxcar Children's Museum, and Alan Dean Foster's desert abode in Arizona. More recently, we visited Don Miller's Portland home and called on Nile Southern, son of Terry Southern, in Colorado.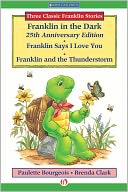 Now, it's time to be a kid again. Earlier this year, Open Road had the opportunity to meet the brilliant writer and illustrator team behind one of the most beloved children's book characters we know—Franklin the turtle. Without further ado, I'll turn the blog over to Greg T. Gordon, Open Road's video producer, to sound off on the experience:
The trip to Toronto to meet writer Paulette Bourgeois and illustrator Brenda Clark, the co-creators of Franklin the Turtle, was a highly anticipated one. I was (and still am!) a huge Franklin fan. I vividly remember having a plush Franklin doll in our kindergarten class that would go home with a different student each weekend— along with a journal to which the student would add entries about his or her time with Franklin. Needless to say, I was very excited to meet Paulette and Brenda.
When it came time to interview them, our conversations were relaxed and casual, yet profound and insightful—they both felt so familiar to me. Maybe I caught Franklin fever while I was there, but I was in awe of both Paulette and Brenda. It wasn't until I actually sat down with them that I fully understood the impact that these two women have had on the world. (Yes, the world!) The letters that Paulette and Brenda receive from children all over the globe are truly heartwarming.
Illustrator Brenda Clark in the interview chair, surrounded by Franklin

As for surprises, one of the oddest things that I learned was that Brenda and Paulette didn't meet until at least a year after the first book came out. It just blew my mind to imagine that these two people were able to create such cohesive work without being in the same room. Apparently this is commonplace in the world of illustrated books, but it was news to me!
While in Toronto, we took a water taxi to Center Island, which is home to the Franklin Children's Garden, a beautiful park for children to play and interact, with statues of Franklin and his friends sprinkled throughout.
Author Paulette Bourgeois has a chat with everyone's favorite turtle

Afterwards, we traveled to the archives of the Osborne Collection of Early Children's Books, which has tons of Brenda's original illustrations. Our team spent time scanning never-before-seen archival material that is showcased within the Franklin in the Dark (25th Anniversary Edition), Franklin Says I Love You, and Franklin and the Thunderstorm ebook bundle, such as an excerpt of the first manuscript and original sketches that reveal how the text and art evolved. Seeing all of this up close was truly incredible.
We also spent time at Kids Can Press, meeting the people who have nurtured the franchise, and we got to see some work being done on the new Franklin animated television show.
Franklin, the product of Paulette's creation and Brenda's visualization, is loved in dozens of countries and almost as many languages. And it's not as if the creators speak of Franklin as just a character, they speak about him in a way that brings him to life. The adoration, love, and warmth in their faces when they talk about him is clear. Maybe I did catch a bit of Franklin fever, but I'm certainly better for it!
Don't miss these Franklin NOOK Books: Franklin and the Thunderstorm, Franklin Goes to School, Franklin Rides a Bike, and Franklin Says I Love You. In addition, check out these bundles: Franklin Goes to School, Franklin Rides a Bike, and Franklin Fibs; Franklin Goes to the Hospital, Franklin and the Tooth Fairy, and Finders Keepers for Franklin; Franklin in the Dark (25th Anniversary Edition), Franklin Says I Love You, and Franklin and the Thunderstorm; Franklin Is Bossy, Franklin Plays the Game, and Franklin Is Messy; Franklin Is Lost, Franklin's Secret Club, and Franklin and Harriet; Franklin Wants a Pet, Franklin's Blanket, and Franklin's School Play; Franklin's Baby Sister, Franklin's Class Trip, and Hurry Up, Franklin; and Franklin's New Friend, Franklin's Bad Day, and Franklin Has a Sleepover. Finally, we're proud to report that Franklin now has a Twitter and Facebook presence, bringing this beloved character into the digital age!
Permalink