Thread Options
Mark as New

Mark as Read

Bookmark

Subscribe

Email to a Friend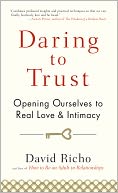 In the past few months, we've introduced you to Open Road Integrated Media, the digital content publisher traveling far and wide to bring you the best in e-books and behind-the-scenes author content! In the first of our ongoing guest blog series, "On the Road with Open Road," we traveled to
Pat Conroy's house
. Soon after, we ventured on to the
John Gardner Papers
, and the
Boxcar Children's Museum.
Today, we get a peek behind-the-scenes of Open Road's visit to the home of spiritual and thought-provoking author Dr. David Richo. Without further ado, I'll turn the blog over to Lauren Naefe of Open Road:
Thanks Jeremy!
This week I'm excited for us to hit the road with an author who has been giving others a "turbo charge" toward self-improvement for decades: Dr. David Richo. In lieu of those looming New Year's resolutions, David's new release, Daring to Trust, couldn't be better timed. It's a life-changer, full of transformative insight and practical tips for loving more, living better.
Last fall, we traveled west to meet David at his home in Santa Barbara, CA. In addition to being a celebrated writer, David is also a practicing psychotherapist and workshop leader, who emphasizes meditation and mindfulness within his practice. As part of our Open Road team, producer Dr. Paul Hokemeyer, a NY-based marriage and family therapist, interviewed David to fascinating effect.
The journey out to meet him was beautiful. In Carpentaria, the desert browns glittered under a clean pastel sky, and as our van chugged down the highway, we looked left to ocean waves furling slate blue and frothy green. As we pulled up to David's house, Paul admitted that he was a little intimidated to meet the author after having read his books; he expected him to be "stern and professorial." Paul's expectations were wrong. As David welcomed us in his doorway, he was kind, warm and welcoming.
As we slipped our shoes off by the door, we admired David's home, a wonderful, brick ranch built in the 1950's. David's commitment to Zen was clear. He lived with only the things he needed. I was surprised to note that he had three shirts in his closet. But even more shocking was that his bookshelves contained only the books he was actively reading. (Talk about an exercise in restraint!)
David's home also reflected deep cherishing of relationships and a love of learning. Lining the walls was artwork created by his son, and photographs of family and friends. The inspirational quotes on the walls imbued the home with a quiet reverence of wisdom. All was calm and understated, a perfect setting in which to contemplate the world, study, and meditate, all of David's daily endeavors.
Soon, we settled down and got to work. With cameras in position, Paul and David embarked in deep, thoughtful discussion, and the mood shifted from calm and peaceful to concentrated, markedly intense. David spoke at length about the inspiration behind his classic, How to Be an Adult in Relationships, a book that is described by readers as "an amazing tool, a life-long partner, a second bible." David explained that, "most people think of love as a feeling, but love is not so much a feeling as a way of being present," and delved into the five hallmarks of mindful living and their connection to healthy relationships. He also spoke about happiness, and the liberation we can find from recognizing the facets we cannot change, all discussed in depth in The Five Things We Cannot Change.
When we asked about the basis behind his new book, Daring to Trust, David commented that "all the relationship struggles are fundamentally trust issues, whether it's fear of commitment, fear of abandonment, communication problems, jealousy, or a tendency to be controlling." He showed us that "trust can grow with practice, especially that of choosing to be trustworthy, whether or not others may be," and showed us the practical exercises for exploring and enhancing trust, all contained in the book.
As the interview ended, Paul commented that he "could have spent a month talking to David and still feel like there was so much more I could have learned." I felt the same and, mentally replaying David's poignant considerations of ego, attachment, behavior and change, I grew more and more eager to get back to the office and review all of the footage. (Click here to view some short videos from the trip... and keep connected to us on Twitter to be the first to see new videos in the coming months.)
After the shoot, it was time for some levity. With David in tow, we piled into the van and explored the author's favorite spots in Santa Barbara, stopping first to grab food at David's favorite burrito stand. We then made our way to the ocean, where we parked by the shore and lingered on the bright sand. Later in the day, as the sun sank low and heavy in the sky, we lounged in David's backyard, watching appreciatively as a hummingbird gathering dinner from a vibrant flower.
Now back in New York City, where we've been plowed by blizzard and slapped by skin-numbing cold, it'd be easy to think that the warm hours spent in deep conversation or shared silence under the sun would seem very far away, almost distant. But they don't. David's insight and the wisdom of his books surface frequently in these introspective months. Tucked inside a café with friends or charging along in the morning commute, I find myself remembering something he said about fear, work, life and change, and take pause to consider what is truly important within these fast minutes of the day.
With New Year's resolutions overhead and a long winter before us, we invite you to connect with David Richo's wise words firsthand via the wonderful e-books available for sampling and download on your Nook.
If 2011 is the year during which you want to grow your sense of trust in yourself and others, check out Daring to Trust.
Or, if you often find yourself dwelling on the past and you wish to better appreciate the present moment, click through to When the Past is Present to be led through some refreshing realizations.
To embrace and accept life as it really is, begin with The Five Things We Cannot Change where you'll consider and appreciate your whole, true self.
If, above all, relationships are your major priority, then don't miss How to be an Adult in Relationships: The Five Keys to Mindful Loving, within which you'll learn and love the five A's (attention, acceptance, appreciation, affection and allowing).
For a deep, dark and challenging dive into the dark side of your psyche, pick up
Shadow Dance and tap the creative power of your shadow self.
Last but not least, if you've read any of these books, please share your favorite quotes with newcomers in the comments below.
Our shoes at the entryway to David's home.
David's walls were filled with photographs of family and artwork created by his son.
Lush, vibrant flowers made for a beautiful atmosphere around David's yard.
Paul Hokemeyer, Luke Parker-Bowles and David Richo pose for a snapshot.
From the moment we arrived at David's house, it was clear that he was Zen in the manner of his living.
David Richo writing in his study.
David Richo, Paul Hokemeyer and Luke LoCurcio prepare for the shoot.
David Richo takes in the beautiful vistas around his home.
Permalink