Thread Options
Mark as New

Mark as Read

Bookmark

Subscribe

Email to a Friend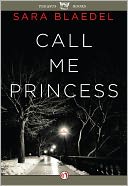 In the past year, we've introduced you to Open Road Integrated Media, the digital publisher traveling far and wide to bring you the best in ebooks and behind-the-scenes author content! In our ongoing series, we've traveled to
Pat Conroy's house
, the
Boxcar Children's Museum
,
Alan Dean Foster's desert abode
,
Don Miller's Portland home
, and MET the brilliant writer and illustrator team behind one of the most beloved children's book characters we know—Franklin the turtle—in Toronto.
This month we're excited to share the story of Danish crime queen Sara Blaedel, who flew all the way from Denmark to a video shoot with the Open Road team throughout New York City. Blaedel has been voted the most popular novelist in Denmark several years in a row and her intentionally bestselling book Call Me Princess is now available to English-speaking readers for the first time ever.
Without further ado, I'll turn the blog over to Sara to talk about her experience being filmed by Open Road:
On a late Wednesday evening in May, my husband Lars and I arrived in New York City from Copenhagen. My trip was to the States was for a daylong video shoot with Open Road Media, the ebook publisher partnered up with Pegasus Books to distribute and market Call Me Princess, my English-language debut novel.
The Open Road team had previously sent over 120 questions (or a million?) designed to get to the heart of my main character, Louise Rick, and my own life stories.
But beyond that, all I knew was that we'd be going to some gritty locations to match the visceral mood in Call Me Princess. The novel is about the dark side of online dating and although it all unfolds in Copenhagen—which many people consider to be a fairy tale city—it could easily unfold in a place like New York City with its dark sides and myriad mysteries of nightlife.
After I settled into the hotel, slept and awoke for a quick breakfast, I met with Producer Lily Henderson and the Open Road team in the lobby. We traveled together through the pouring rain and, as we finally parked in front of a large abandoned warehouse in Brooklyn, the mood became one of great anticipation.
Through the years I have taken part in quite a few video recordings—filmed as a writer and, in a former profession, as a journalist—but never before have I experienced such engagement and attention to detail. When we entered the warehouse, I found that Lily had acquired handcuffs, a police badge, fake blood, and everything else that belongs on a real crime scene. (It was actually a little bit creepy.)
Throughout our day of filming, the biggest challenge was when Lily asked me to play my main character Louise Rick. I know everything about Louise, but I had never imagined that I would play her role. (Had I not felt so comfortable with the production crew and the scene, I would never have agreed to do it.) Did it work? You will have to decide by watching the video:
After the filming, I remember lying on my bed late Friday night completely depleted and proud that I had spent two whole days in New York with my very own camera team.
Permalink