Thread Options
Mark as New

Mark as Read

Bookmark

Subscribe

Email to a Friend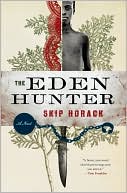 Skip Horack's richly imagined novel The Eden Hunter is the kind of book you'll be glad you stumbled upon. Below my interview with the author.
Jill Dearman: What was the initial inspiration for The Eden Hunter, and what was your writing process like?
Skip Horack: I used to live in North Florida, and during my time there I stumbled upon the story of this fort that the British had built along the Apalachicola River during the War of 1812. Florida technically belonged to the Spanish back then, but it was also more or less a wilderness. This fort was not very far from the American border, and its purpose was to recruit runaway American slaves to enlist with the British in their war against the United States. The British were actually quite successful in convincing a large number of runaway slaves to join up with them, but before the fort ever saw battle the treaty was signed that ended the War of 1812. A few months later, the white British officers sailed back to England and left the fort in charge of these recruits.

So, for about a year and a half, you had this frontier fort—just across the border from Georgia—that was completely controlled by runaway slaves. This came to be a real thorn in the side for certain American slave owners because, even though the war was now over, many of the slaves in the Southern states and territories knew of the fort's continued existence, and so quite a few continued to run off and seek refuge there. The plantation owners complained of this situation to the government, until finally the American military agreed that something needed to be done.

I won't tell you what all went down after that, because that's a big part of my novel—but fascinating, right? For whatever reason the story of this fort is not widely known, and so I started doing what research I could—at first because the subject simply captured my imagination, but then also because, as time passed, I started to think that there might be a novel in this that I'd like to tackle.

The question then became how to tell the tale, and somewhere along the line I decided that I wanted to present the story of this fort from the point of view of an African pygmy who had been sold into slavery. Once I had my protagonist (Kau) and point of view, I was able to start writing.

JD: Did Kau come to you as a fully realized character or did he take a long time to develop?

SH: I don't think any character has ever come to me "fully realized." Kau, like all the others, started off rather shadowy, but then became more fleshed out as I imagined his backstory and put him in different situations—particularly moments when he was simply alone in the forest. No group of people lives in greater harmony with nature than the pygmy tribes of Central Africa, and the opportunity to drop such a person into a landscape that I love and know pretty well really fascinated me. In short, I created and developed Kau by writing the book, and so it's hard for me to separate the two processes.

JD: You won the Bread Loaf prize for your story collection, The Southern Cross. How smooth or bumpy was the transition from short form to long form?

SH: With a short story I can always see the light at the end of the tunnel—settling into my first novel, on the other hand, felt more like embarking on a long and rambling hike to some unknown destination. However, once I was able to embrace the process, I came to enjoy the experience. The main difficulty I found was that—whereas it's fairly easy for me to keep an entire short story sorted in my head—as the pages of a novel start to pile up this becomes more and more difficult to do. Impossible, really—and so with a novel I think at some point you come to place where you just have to push forward on the blind faith that, when the dust settles and you have your draft, you will have created something worthwhile ("worth revising," I should say).

JD: How has your background as a lawyer informed you as a writer? Are you pretty organized and disciplined?

SH: To date, I haven't written a whole lot that speaks directly on the practice of law—but of course law, like fiction, is all about conflict, and so I'm certain that my experiences as a lawyer were helpful and even necessary for my own development as a writer. And, yes, my writing definitely benefited from the discipline and work ethic that was demanded of me back in those days.

JD: What writers have influenced you the most?

SH: I'm sure my answer to this question would change depending upon the day in which you happened to ask, so rather than kick myself later for omitting someone I'll just limit myself to three who jump to mind quickly: Charles Portis, Flannery O'Connor, and Peter Matthiessen.
For more on Skip, visit www.skiphorack.com for more on the craft of writing please check out my book, Bang the Keys.
Permalink