Thread Options
Mark as New

Mark as Read

Bookmark

Subscribe

Email to a Friend

At last the 2012 election is over! No more hourly fundraising text messages or oddly personal emails. But if you think this election was tough, you should have been there for some of the others! Jon Meacham's fabulous brand-new biography of Thomas Jefferson

made me think of some of the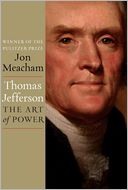 presidential history books I like the most--usually the ones that reveal the past is no la-la golden age of reason and gravitas. It got down and dirty, so let's take a look.
Thomas Jefferson by Jon Meacham is an amazing book that manages to be very long (800 pages) and yet feel short. Meacham's detailed look at our third president, the man who gave the USA the Declaration of Independence, the University of Virginia, the Lousiana Purchase, and a family of mixed-race children by his slave Sally Hemings, is of course nuanced and thoughtful, but it's also a great read. Turns out that those who still revile Jefferson as an atheist and a destabilizing force have predecessors; hey, I mean, he rewrote the Bible to make it make more sense, and he certainly liked to shake things up.
But at the same time he was very much a product of his upbringing and his milieu--a powerful man born to a wealthy, privileged, and slaveowning class who made many assumptions about his power over people. And not all of them liked it--his re-election campaign in 1804 was absolutely vitriolic on both sides, as wild accusations flew and character assassination was the order of the day. And that was before cable TV and Twitter, of course--in fact, it was before the age of mass literacy and mass newspapers. Mass media has not as much to do, perhaps, with our inclinations as with their expression. Human nature is eternally so, it seems.
Another Meacham book weighs in as my second-favorite: American Lion, about Andrew Jackson. Another tome of considerable size, American Lion reveals a president who excited just as much hatred, opposition, and controversy as our 44th, the newly reelected Barack Obama. In fact, after reading this one, I couldn't help but think what a fine time Comedy Central and Fox News would have had chronicling Jackson's presidency.
I've long admired The Presidents Club from Nancy Gibbs and Michael Duffy, which goes into juicy insider detail about the relationship between the living holders, past and present, of the office. JFK asked Ike for help after the Bay of Pigs, Clinton stayed in a private cabin on the Bush compound, Obama and Bill C. play golf, and Nixon wrote secret letters to Reagan about how to set up the White House. I'm fervently grateful that it was not too drastically pruned by the publisher's sometimes-too-cautious legal eagle. It's so much peek-behind-the-curtain fun.

Down and dirty could describe what the characters in another of my beloved White House books might be up to--especially the dogs. Pets at the White House is a big, glossy four-color book that covers what reporters might call "silly season" type stories. But come on, how can one resist reading about the pet turkey Tad Lincoln kept (Thanksgiving is coming....), hefty President Taft's heifer, and the full chronicle of pets through the past 10 administrations, from President Kennedy to Obama. Fish, fowl, dogs and cats, and yes, an alligator, too. Only the hard-hearted are immune to the charm of these 200+ photos and touching stories.
As strong and moving as human-animal bonding can be, the pair bonding that takes place between president and first lady is even more fascinating. Of the many dual biographies of Franklin Delano and Eleanor Roosevelt, two stand out in my mind: Hazel Rowley's intimate Franklin and Eleanor and Joseph Lash's magisterial Eleanor and Franklin. It seems necessary to read both to get even a glimpse of the multifaceted marriage between these two cousins that still puzzles, impresses, and inspires us today.
Well, I'm at six titles already and I haven't even gotten to Dreams from My Father by current president Barack Obama or Robert Caro's incredibly fascinating multiple volumes on Lyndon Johnson: four so far, from Master of the Senate to The Passage of Power.
We may tire of elections but it seems we do not tire of reading about these men who hold the highest office in the land. And someday, I know, we will read about a woman there instead.
Permalink