Thread Options
Mark as New

Mark as Read

Bookmark

Subscribe

Email to a Friend

As baseball's preseason starts and articles and emails fly, what's the deal with teams and their players? And their stadiums? Is it the Nationals' pitchers who aren't up to par, or the Rangers hitters? Possessives, pitching, and the apostrophes of spring.
All the new baseball books start coming out in March and April. I'm looking forward to the third of former commissioner Fay Vincent's oral history series,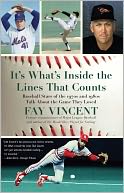 It's What's Inside the Lines That Counts
since it covers reminiscences and interviews with players of the 1970s and '80s, a formative era for my baseball passion.
Books on baseball are always interesting from a grammar point of view, and books of oral history are doubly so. Grammar and stylistic conventions have established certain conventions regarding sports. It's okay to use hyphens in scores, but en dashes are preferred. Dictionaries list "at bats" as a plural noun. The editors' argument about whether one writes RBIs or RBI, since some folks feel RBI means runs batted in, goes on.
The oral history of baseball includes the mind-bending words and sentence structures of Casey Stengel, Yogi Berra, and Phil Rizzuto; whole syntactical gyrations are nowhere more beautifully showcased than in the Scooter'scult classic O Holy Cow!, (in a new expanded edition edited by Tom Peyer and Hart Seely).
One simple yet bedeviling question comes up every year. When using a team name to indicate possession—of players or stadium or fans (and many fans are possessed—if you've ever been to Fenway or the bleachers in the Bronx, you know that) —does one use a possessive adjective form with an apostrophe and an "s" or not? Does one use the team name w/o a final "s"? If not, why?
Simply, is it Mets' pitchers, Mets pitchers, or the Met pitchers? Red Sox infielders, the Red Sox's infielders, or Red Sock infielders? (Clearly, the last one makes no sense.)
The answer is no, no apostrophe, and no, they are not adjectives. There are Yankees pitchers and Diamondbacks catchers, Red Sox fans (why, I don't know) and Twins outfielders. Why?
The team names are functioning not as adjectives or possessives but as attributive nouns, like high school principals or the plumbers union.
Whew! Now let's play ball!
What is your favorite baseball book?
Ellen Scordato has 25 years' book publishing experience as an editor, copy editor, proofreader, and managing editor. She's now a partner in The Stonesong Press, a nonfiction book producer and agency. In addition to her work at Stonesong, Ellen has taught grammar, punctuation, and style at the New School for more than 12 years in the English Language Studies department and taught English as a Second Language at Cabrini Immigrant Services.
Permalink