Thread Options
Mark as New

Mark as Read

Bookmark

Subscribe

Email to a Friend

When journalist, curator and woman-about-town asks questions, one can't help but listen well to her responses. This week "Writer to Writer" puts Cara Cannella in the hot seat to talk about her new reading series.
JD: What's the origin of the Speak Easy Series?
CC: Last fall, I was in the kitchen of my good friend Agatha, co-founder of Ovenly, a Brooklyn-based baking company. As we often do as she chops and whips and kneads, we talked about what we want out of life. During that conversation, she helped me to speak Speak Easy into existence; something about the smell of scones rising in the oven helps with this sort of alchemy! By listening, asking questions, and sharing her own experiences as an entrepreneur pursuing her passion, she inspired and pushed me to take what I have loved for as long as I can remember—engaging with creative people, understanding what motivates and drives them, and sharing what I learn—and make it come alive. The nurturing and stimulating space of her kitchen was an incubator for the birth of the series, and I want to facilitate similar experiences for the Speak Easy audience by providing a platform for learning from and connecting with artists and entrepreneurs. By sharing stories of failure, success, and everything in between, these innovators—who take risks to express themselves and bring necessary and beautiful things into existence—can spread this contagious spirit. I want to bring people together, face to face, to directly inspire and support each other to build a creative community. As a journalist covering small business for the past 10 years, I've learned that doing your own thing can be as challenging and isolating as it is rewarding. I hope to make it easier for people to pursue what they truly love by helping to illuminate that path. For my debut event, I invited Colm Toibin, bestselling author of the novels Brooklyn and The Master, to discuss The Empty Family, his new book of stories. Colm and his writing embody these qualities I want to explore—passion, commitment, and bravery.
JD: What's the vibe you are going for?
CC: Authentic, fun, curious, revealing, empowering. It's been said many times that I'm the person in the room who says what everyone else is thinking. I want to bring that same frank, accessible, inquisitive, and lively tone to the series. While I'll prepare for events in the hope of understanding guests' lives and work as deeply as possible, I also believe that the simplest questions can reveal the most profound answers. The series will happen once a month at Veronica Peoples Club, a bar in my neighborhood (Greenpoint, Brooklyn). It has a very open, art gallery-like feel, with rotating DJs, Sunday Suppers, projected movie screenings, and a relaxed garden. The owners are welcoming and supportive. They've created a family of employees and regulars while remaining open to new ideas and people. The bookstore Word, located half a block from the bar, will be selling books for the first event with Colm Toibin. Agatha and her business partner Erin of Ovenly will provide treats for the series. To celebrate Toibin, a native of Ireland, they'll make chocolate stout cupcakes with salted caramel frosting.
JD: You go back a ways with Colm Toibin; could you tell us about how you initially met and how the friendship developed?
CC: We met in 2001, during my last semester as an undergrad at Boston College. I was enrolled in a writing course called Profiles & Personalities, based on the style of New Yorker profiles. When I learned that we were to cover one person for the entire semester, I asked my teacher, Michael Lowenthal, if he knew of a writer I could profile. He introduced me to Colm, who was then researching his book The Master, a novel about Henry James. I spent time with Colm in Boston and traveled with him to Newport, Rhode Island, where James spent several summers with his family. Colm wanted to "breathe the air" there to get a sense of the place that would serve as setting for part of his book. We spent an unforgettable day together. We strolled around town, followed the Cliff Walk, poked around in a used bookshop (where we stumbled on Colm's books), had a lobster dinner, sat by the dock, watched surfers, and talked and talked. Colm has said that he kept me in mind as he characterized Minny Temple—a young and spirited American woman who was cousin to Henry James and inspired several of his characters, including Isabel Archer in The Portrait of a Lady and Milly Theale in The Wings of a Dove—in his own book. I also visited Colm in NYC that spring, where he was a fellow at The New York Public Library's Cullman Center for Scholars & Writers. I fell in love with the main branch of the library (at 42nd St & 5th Ave) on that trip, and last year, I interned for their live conversation series, LIVE from the NYPL, where I worked with Paul Holdengräber, director of that program. I learned a tremendous amount from him about the art of conversation—what he calls "cognitive theater." Colm has made appearances at LIVE from the NYPL, including one last week, where he discussed his new book and recited Sylvia Plath's "Daddy" from memory—intense! Between that and his quick wit and charm, he blew everyone away. Now I work at BAM (Brooklyn Academy of Music), where Colm has also appeared as part of their Eat, Drink & Be Literary series. We've kept in touch over the years, and he teaches at Princeton now and lives in Manhattan. I'm so excited and honored to kick off Speak Easy with him.
JD: Who else do you have lined up for the series?
CC: On Tuesday, April 5 at 8pm, I'll focus on entrepreneurs and interview a panel on the subject of How to Bring a Restaurant to Life. I love that the root of the word "restaurant" comes from restaurer, "to restore" in French; I think that in NYC, especially, where so much of our time is spent eating and coming together outside of our tiny apartments, the role and function of restaurants is vital. Part 1 will include Oliver and Evan Haslegrave, the two brothers behind hOme, a Brooklyn-based design partnership known for their use of salvaged materials; Paul Giannone of the wood-fired pizza restaurant Paulie Gee's in Greenpoint (which was designed and built by hOme), and Agatha and Erin of Ovenly, who bake out of Paulie's kitchen and create ice cream toppings for the restaurant. Part 2 will include Sean Dimin of Sea2Table, which delivers sustainable wild fish to restaurants overnight, and Jacques Gautier, chef and owner of Palo Santo, a Latin American-influenced restaurant that sources fish from Sea2Table and vegetables and herbs from its own rooftop garden. All of these business owners are Brooklyn-based, and their relationships embody the kind of collaboration and community building I find interesting. I'm still working out guests for April and May. On Tuesday, June 7 at 8pm, I'll interview Nathan Larson, author of the new novel The Dewey Decimal System, published by Akashic Books and set inside The New York Public Library. Nathan has also had an interesting career as a composer and musician; he was the lead guitarist for the influential band Shudder to Think, and he has scored dozens of movies including Boys Don't Cry and Dirty Pretty Things.
JD: What books have had the greatest impact on your life, on your imagination?
CC: A Moveable Feast by Hemingway, which led me to study abroad in Paris. Lorrie Moore's early book of short stories, Self-Help. When Things Fall Apart by Pema Chodron, an American Buddhist nun. A Room of One's Own and Mrs. Dalloway by Virginia Woolf. Wendell Berry's poetry and essays. Thoreau's Walden.
JD: Let's end on that meditative note. Thanks, Cara. And for more please visit: www.speakeasyseries.com and come on out to see Colm Toibin on February 15.
For more on the craft of writing please check out my book,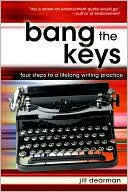 Bang the Keys and the site, www.bangthekeys.com
and until next week, I leave you with this question: what's the question you'd most like to ask your favorite author?
Permalink